About my Fujifilm X-T4, my New Vlogger Career and the Crucial Question: did I get X-T4 in Black or in Silver?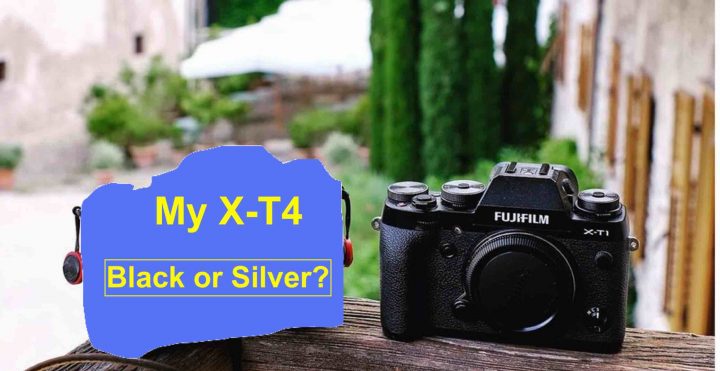 So it happened.
After a long wait, today I received my Fujifilm X-T4. And it comes just at the right time.
As a teacher, I am homeschooling since beginning of March. And I film a lot of lessons that I upload on my youtube channel, such as a brief overview over the history of film and cinema, as you can see from the thumbnail of my secret youtube channel only my students can see.
I did share my vlogging setup here, with my main camera being my Fujifilm X-E3, which isn't the ideal vlogging camera. One time I filmed myself, talking into the camera, and when my wife passed behind the camera, she asked me why the screen is off. You got it, it run out of battery and I talked into a dead camera. That's when I started to run my X-E3 via camera remote app, to be able to see myself.
But now I have a selfie screen… thank you X-T4 :).
And overall, I must say that vlogging isn't as easy and fast as it seems when you watch those 6 minutes youtube videos.
My 20 minutes lesson about the history of cinema video cost me 12+ hours of work spread over 2 days. Write the text, find the images and video clips to use during my talk, set up my gear, film everything, edit in Final Cut Pro, realize how many things I could have done better, hear my wife saying "knowing you, you'll film it all again". And so I did, I wrote everything again, I filmed it again, I edited again and finally uploaded everything.
In short: now I work at least 4 times more for my teaching job as before, but at least I keep up getting emails from parents and students, who are extremely happy by the quality of my online lessons and (don't tell the others), they say I am the one teacher, who puts the biggest effort and passion into homeschooling. Makes me totally happy, but on the other hand I am exhausted.
So, my respect to all vloggers, who entertain us on youtube. I know how much work you put into this.
Anyway, my X-T4 is here, and I am totally happy!
I unboxed it in front of my wife, and the first thing she said was "wow, that's so beautiful". So we got approval here ;).
I surely will not have time to shoot all that much with my X-T4, at least not until June 16, which is when school ends. After that, maybe… if there is not another lockdown.
For now I am sorry if I run FujiRumors probably not at my best, and if I can't deliver images from my amazing dolomites on my instagram page.
But teaching is my day job and simply has priority. We Italians pay a horrific amount of taxes, and I think public schools should honor that with great service towards students.
But after June 16, I am free. And you bet… that X-T4 will work like hell here on my mountains. Can't wait for it.
Oh… and for the first time ever, I got a silver Fujifilm camera. I just had to try one time. And I must say, it looks pretty damn vintage, even more so if you flip the LCD screen inwards, so you don't see the LCD at all.
So far… I LOVE IT!
P.S.: Yep, I also got a spare battery and the BC-W235 dual charger.
→ Top X-T Community: Fujifilm X-T facebook group
→ Top X-T Page: Fujifilm X-T Page