Pure Travel Photography in Sri Lanka with the Fujifilm X-Pro3 and No Display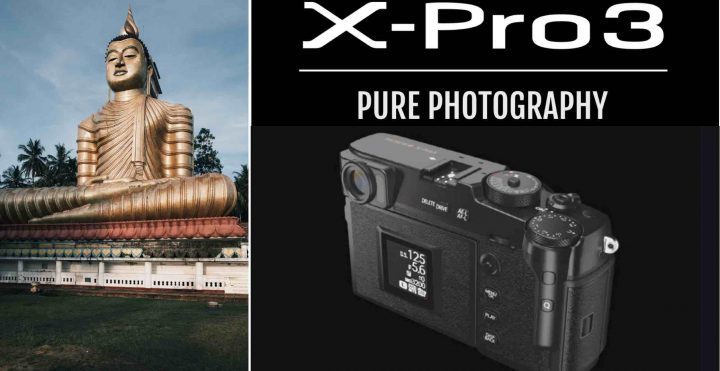 guest post by Andy Gawlowski – worldwidewax.ch
Back than in 2016 it was FUJIFILM X-Pro2 which I was able to test for my travel photography in Morocco (Article FUJI RUMORS) . I was so impressed by the camera that I sold my entire Canon full frame system and switched to FUJIFILM. The camera was small and light, it looked damn good and took simply great pictures. Especially the compact form factor was an unbeatable argument for my travel photography. One of the pictures I took in the port of Essouira even made it into the Top 50 in the "Travel" category of the Sony World Photography Awards 2017.
In autumn 2019 FUJIFILM released its successor the X-Pro3. The announcement immediately caught my attention. Especially, when I heard about the unusual design concept. At first glance the camera doesn't have a display on the back where you can review your photos. The X-Pro3 has a rear display that you first "cumbersomely" have to open to see and use it. The intention behind it is relatively clear. FUJIFILM wants to encourage photographers to focus more on the process of taking pictures rather than constantly looking at the display to review their images. This is very reminiscent of the days of analog film photography and is also a concept that was already been tried by Leica. By the way this constant checking of photos is called "chimping" and can lead to losing attention and reference to the scenery in the current photographic moment. It's something I used to observe with myself for quite a while but was luckily able to turn off. With time you simply get more self-confidence in your abilities and therefore you have to look at the display less often.
FUJIFILM Switzerland was kind enough to lend me the X-Pro3 with the FUJINON 14mm f/2.8 lens for my two-week trip to Sri Lanka. I intentionally limited myself to only one lens in order to give my full attention to the camera itself.
First impression
My first impression of the X-Pro3 was quite positive. First there is this design. For me the look of a camera is not unimportant. FUJIFILM cameras, together with those from Leica, are for me among the most beautiful of all manufacturers. This may be a minor matter for many people. But I know from myself that I simply prefer to take a beautiful camera in my hand. I simply like the retro-design of the X-Pro3. Also, all knobs and buttons are in the right place. The camera has a comfortable weight (not too light) and fits well in my hands. Even the camera menu itself – an old weakness of FUJIFILM – has improved over the years and is now much more comfortable to use. But I still wouldn't award a main prize for it. The picture quality is, as you would expect from FUJI, very good. Photographing with the ISO-less X-Trans sensor does require some training but can be mastered relatively quickly after a few sessions. The APS-C sensors still have a certain weakness only when it comes to bright / clipped highlights. I noticed, as I did with the X-Pro2 in 2016, that bright lights can hardly be recovered afterwards in postproduction. They contain almost no details. You have to keep this in mind when shooting scenes with harsh differences in brightness. In such case I advise to underexpose the photos. To my experience there are way more reserves in dark shadows than in (clipped) highlights.
Taking pictures without the display
Personally, I found the experience of photographing without a display very inspiring. Once you get used to the concept it is a lot of fun to be on the road with that camera. In fact, you concentrate more on the moment and especially on the camera settings before you hit the shutter. If you really commit yourself using the camera without instantly checking your photos it becomes definitely more important to think about settings like ISO, exposure, aperture and shutter speed. After two weeks of taking pictures without the display I got the feeling that I had actually taken a technical step forward in my photography. When I now see a scenery that I want to photograph it is easier for me to choose the right camera settings straight away. This is especially true for the choice of the desired aperture as I shoot 99% in AV mode (aperture priority). Thanks to this fact alone I can advise every ambitious photographer to try such review-free approach. It's really fun!
Whether the X-Pro3 and its concept appeals to you or not is something that everyone has to decide for themselves. If you are interested in photography, I do recommend giving the camera a try. It could be an unexpectedly positive experience. I haven't had so much fun with any other camera for a long time and can therefore only warmly recommend it. Because it was so much fun shooting with it I had it always with me. Especially when it comes to travel photography, where an interesting scene might wait for you around the corner, this can be a major advantage.
guest post by Andy Gawlowski – worldwidewax.ch
Image Gallery