Fujifilm X-T1 Survives Crude Oil Swim, Sony A7III vs Fuji X-T2 and X-H1 and NOT Switching to SONY for WEDDINGS – miXed Zone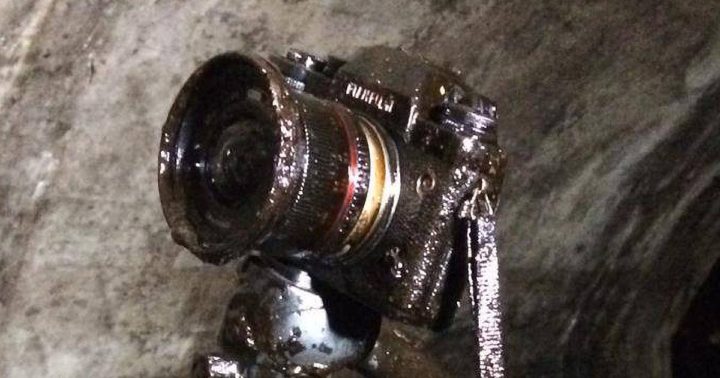 Mixed Zone
Time for a major miXed zone, this time focused on all kind of Fujifilm cameras, except for the brand new Fujifilm X-T3, Fujifilm GFX50S and Fuji GFX50R and Fuji X100F.
But before we move on, remember to feed your Fuji addiction on our social media:
FujiRumors: Facebook, Instagram, RSS-feed and Twitter
User Groups: Fujifilm X-T, GFX, X-H, X-Pro, X-E and X100 line
Dedicated Pages: Fujifilm X-T, Fujifilm X-H and Fujifilm GFX
Fujifilm X-T1 Oil Diving
Fujifilm X Shooter Grahamr1234 dropped his Fujifilm X-T1 in crude oil… and it survived.
"Thanks, Fujifilm for making such a badass camera. I love it even more now (even if it is a bit smelly)."
If you want to read more about it, as well as the cleaning and drying process, check out the article at petapixel here.
Can somebody duplicate this test with a Sony? ;)
Sony A7III vs Fuji X-H1 and X-T2
Daniel Moore (video above) compared the Fuji XT2 vs. Sony A7iii and explains why he is not switching to Sony for Wedding Photography
He owns both and uses both
he will keep both systems
for studio work he uses Sony A7III
Fuji Pros
for weddings he will keep the Fujifilm X-T2
much smaller lenses for APS-C X-T2
lower costs overall, especially the lenses compared to Sony lenses
Fuji has better ergonomics
Fuji has brilliant colors
better hotshoe than the Sony system
Fujifilm listens, better customer support
firmware updates
snappy autofocus, it encourages trust
Pro Sony
video and IBIS
full frame for shallow DOF
battery life
eye AF
more customizable, especially for switching between video and stills
good value
dynamic range is good on Fuji, but better on Sony
high ISO
Also The Slanted Lens comapres the Sony a7 III to a Fuji camera, this time the Fujifilm X-H1. Check out the video above.
Fujifilm higher microcontrast and resolves more (but probably it's because of the better lens – Fujinon XF35mmF1.4 Vs. Sony 55mmF1.8)
in portraits, the roll-off on the Fujifilm is much nicer, more gradual and softer
continuous AF Fujifilm has only 91 AF points in the center
Sony more buffer and nails more shots in CH than the Fuji. Fuji hit a lot of shots, but missed some
Eye detection on Sony is superior
prettier colors on the Fuji. Nice skin tones. You can change in post, but you have to start somewhere, and Fujifilm
Dynamic Range: Showdow recovery: they would have expected more from the Full Frame Sony. Fujifilm recovers similar to Sony. Highlight Recovery: Sony is clear winner
ISO: At very high ISO, Sony less clumpy.
Video: Both seem to capture same dynamic range. Fuji keeps the midtones in the right spot, Sony not.
IBIS: on X-H1 remarkable smooth
Slow Motion: Sony has way more compression artifacts, Fujifilm really smooth and more pretty image
Ergonomic: They love the Fuji dials and tactile experience, rather than the computer-like experience on the Sony
Battery not good on Fuji, good on Sony
They always love Fuji for the colors
EVF and LCD on Fuji for video not so good
in too many areas, the X-H1 fell short, so not for professional photographers
more reasons to get a Sony rather than Fuji
& More