Fujifilm X-H2 Will Also Get Frame.io Camera to Cloud Integration with New Firmware in Spring 2023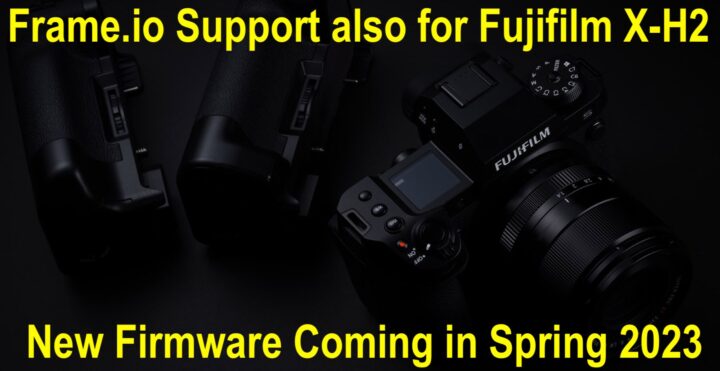 Fujifilm has announced that it will add native Adobe Frame.io also to the Fujifilm X-H2 (in addition to the already announced support for the Fujifilm X-H2S).
Both cameras will get a firmware update in Spring 2023.
In order to work, you'll need to have the Fujifilm FT-XH File Transmitter grip.
Previous Coverage
Press Release
Fujifilm Expands Native Frame.io Camera to Cloud Integration to Include FUJIFILM X-H2 Mirrorless Digital Camera
Early Access Program Contest Announced, Giving 10 Creators Exclusive Access to Camera to Cloud Integration.
VALHALLA, N.Y. –FUJIFILM North America Corporation announced today that its FUJIFILM X-H2 mirrorless digital camera will join its sister camera, FUJIFILM X-H2S, as part of the collaboration with Adobe that will provide the world's first native Camera to Cloud (C2C) integration capability for digital still cameras, powered by Frame.io. The firmware, expected to be released in spring 2023, enables production workflow from anywhere in the world, and facilitates effortless collaborative image and story production.
As originally announced in October 2022 for the X-H2S mirrorless digital camera, the firmware update will allow X-H2 digital camera users with the FT-XH file transmitter accessory the ability to use their paid Adobe Creative Cloud or Frame.io subscriptions – and any active internet connection – to deliver any combination of still or video files to Frame.io, directly from the camera. This will accelerate production workflows and create opportunities to remotely collaborate in real-time by providing centralized access to still and video assets as they are being made – even across multiple users.
"It's exciting that we're able to add X-H2 to the roster of C2C-compatible cameras," said Victor Ha, vice president of Electronic Imaging and Optical Devices divisions, FUJIFILM North America Corporation. "The energy and anticipation from our creator customer base since the original C2C announcement is palpable, and we can't wait to see what our fans do with this new functionality."
To build on this excitement, the company is offering a once-in-a-lifetime opportunity for selected content creators to work directly with the FUJIFILM North America Corporation Electronic Imaging team to join their Early Access program for the upcoming C2C functionality. A total of 10 individual contest winners will be selected based on their contest submissions through http://www.Fujifilm-Frameio-C2C.com and will receive an opportunity for hands-on, pre-market access to the C2C functionality. Contest entrants do not have to be current Fujifilm product owners and winners will be provided with either a FUJIFILM X-H2 or FUJIFILM X-H2S kit (ARV $2,499.95 or $3,299.90) as part of their selection to participate in Fujifilm's Early Access Program, along with a C2C enabled Frame.io account.
"Contest winners will be selected based upon their specific use cases for how C2C can streamline the way they work, and we'll work closely with them to integrate C2C into their photo and video workflows," said Ha. "We're looking for creators from a variety of genres; from street photography to weddings to commercial. Exposing a talented team of real-world creators to C2C prior to the global launch will not only enhance these creators' skill sets and set them up for continued success but will provide our development team with critical feedback in real time as we continue to advance the capabilities of C2C."
United States-based creators age 18+ who are interested in entering the 2023 FUJIFILM Early Access Program Contest for the opportunity try out Camera to Cloud can find out more about how to enter and to read the Contest terms and conditions here.