Fujifilm USA Manager: "Fujifilm X-T4: Lots of Pre-Orders and Available Mid-May"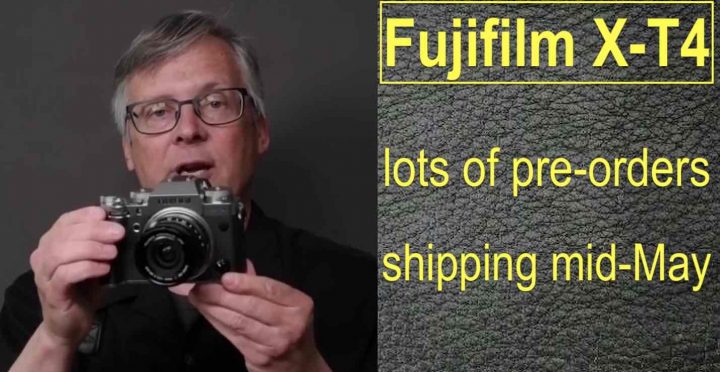 Fujifilm USA manager Michael Bulbenko made a 10 minutes video on Instagram introducing the Fujifilm X-T4.
Just as the top Manager Toshi Iida said a few days ago in this must see interview, also Michael confirms the strong pre-orders for the Fujifilm X-T4.
But strong pre-orders in times of Coronavirus COVID-19 also introduce shipping difficulties.
Regarding the shipping, I must say I am confused. Let's sum up the different official statements we got so far in chronological order.
March 26: Fujifilm Japan issues a press release, saying that the black X-T4 will ship as expected in late April, but the silver one has been postponed to late May
April 2: Fujifilm UK manager says that both colors, silver and black will ship in late April, but body only version. The kit versions will follow "weeks later"
April 9: Fujifilm USA manager says that nothing will ship in April, and all will ship in the 2nd or 3rd week of May
Maybe every country will get a different shipping time? That would be unusual for Fujifilm, but in these days everything is unusual.
If we look at stores, BHphoto marks it as available April 30, while Adorama expects it on May 4.
You can see the Manager video and a summary down below.
Fujifilm X-T4 Manager Video
available 2nd or 3rd week of May
a lot of pre-orders
there are 2 kit options, with 18-55 or with 16-80
they both should ship around the same time [statement in the comments]
battery grip will not include 2 additional batteries [statement in the comments]
X-T4 has same sensor and processor of X-T3, but Fujifilm has added some parallel circuitry and re-tweaked all the software, to squeeze out more performance
X-T4 has IBIS
X-T4 has a little bit bigger grip, which most people will appreciate
new NP-W235 battery has 50% longer life than Fujifilm NP-W126S
he was able to shoot 1/4 of a second and get sharp results. But others shot up to 1 second
he goes over the video specs that we already know
phase detection AF works at -6EV
Join FujiRumors on Patreon, Facebook, Flipboard, Youtube, Instagram, RSS-feed and Twitter
FujiRumors is on Patreon, Facebook, Instagram, RSS-feed, Youtube, Flipboard and Twitter
→ Top X-T Community: Fujifilm X-T facebook group
→ Top X-T Page: Fujifilm X-T Page
Sieh dir diesen Beitrag auf Instagram an