BCN Sales Ranking: Fujifilm Grows 115% and Sony, Canon & Co Fall 30% to 50%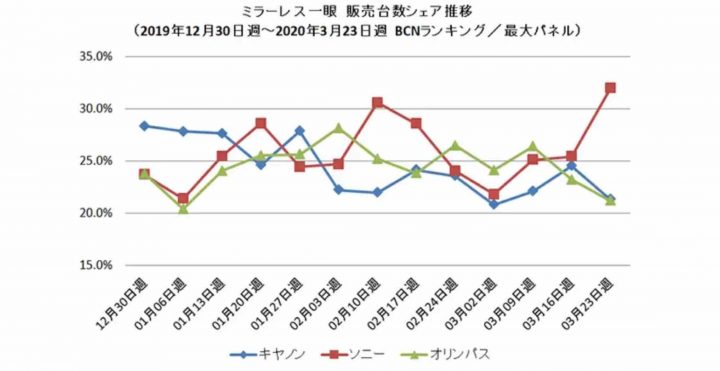 The latest BCN ranking has just been published. It collects data of about 40% of the Japanese electronics and online stores. Here is what they see:
in March, camera sales were down 49.5% compared to March last year
Sony dropped to 44.5%, Olympus to 54.9%, and Canon to 32.3%
Only Fujifilm grew 115.6%. It has the fourth largest market share
They write:
In the rankings by series, Canon's "EOS Kiss M" beat the Olympus "OLYMPUS PEN E-PL9" by a small margin to gain the top position. Sony ranks No. 1 by manufacturer and ranks No. 3 at "α6400". As for Fujifilm's soaring rise, "FUJIFILM X-A5" ranked 6th, and "FUJIFILM X-E3" ranked 9th. (Daisuke Okura, BCN)
Nice to see the Fujifilm X-E3 doing well. And hence even more disappointing that Fujifilm decided to axe it!
Also, keep in mind that in the last 6 months Fujifilm was extremely busy and launched lots of cameras, from the X-Pro3 to the X-T200, X100V and ultimately the X-T4 (the latter one not included in the raking, though). All this, while other manufacturer were not nearly as active.
And yet, nice to see this sales performance boost. It's well deserved for a camera company, that makes some of the most inspiring photographic tools out there.
Rumors and Discussions

Stay in the Loop