Top Fujifilm Manager Toshi Iida Talks Fujifilm X-T4, Strong X-T4 Pre-orders, How COVD-19 Affects Fujifilm, GFX vs FF, Anamorphic Lenses and More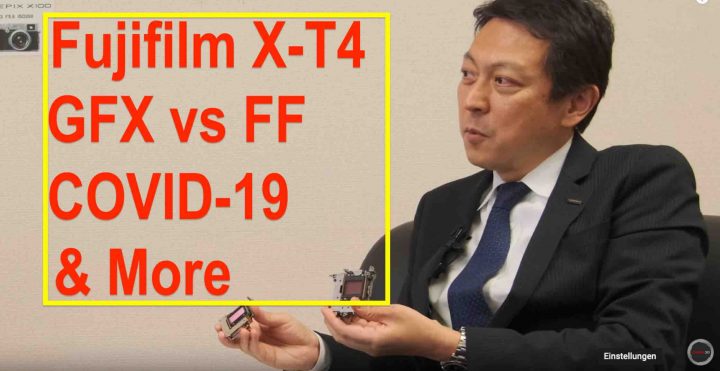 Cinema5D interviewed top Fujifilm manager Toshi Iida.
It's a 20 minutes interview I urge you to watch, but if you are in a hurry, here is what the manager says in a quick and practical summary. You can find the full video below.
How COVID-19 Affects Fujifilm

Toshi feels sorry for all those, who lost their lives due to Coronavirus
Toshi wishes quick recovery to all those, currently affected by COVID-19
he feels sorry with all the photographers, who lost various jobs due to the virus
COVID-19 has a huge impact on the imaging industry. Also the Olympics have been canceled
the virus is affecting Fujifilm in many ways
COVID-19 had lots of impacts on Fujifilm, for example:
1) impact on the Chinese Fujifilm factory: shortage of components and lack of manpower
2) impact on demand for cameras
at the time the Chinese factory closed (beginning of February), Fujifilm was supposed to start production of Fujifilm X-T4
Luckily, the factory went back to normal still in February, but with some restrictions, but they quickly catched up
at the moment Fujifilm does not worry about the manufacturing
Cinema5D said they noticed some X-T4 samples made in China, others in Japan. The manager naswer that all Fujifilm X-T4 are made just in China, because they see such a big demand, and in order to meet such a big demand, China is the best place to manufacture it
due to the COVID-19 crisis, Fujifilm should be worried about the X-T4 being affected. But so far X-T4 pre-orders are quite strong anyway. Customers are still willing to buy a good product
there are some logistic restrictions. Warehouses are not 100% operational, shops are closed, but people still want to buy X-T4
Fujifilm has not noticed X-T4 pre-orderes being canceled due to COVID-19
Fujifilm recommeds the staff to work from home, but he still focuses on keeping the same speed in product innovation and development
Fujifilm X-T4
when asked why the X-T4 came only 1.5 years after X-T3, the manager says that immediately after they launched X-T3, they started getting such a positive feedback, but they also started getting request for IBIS and bigger battery, so Fujifilm thought they should respond to customer needs and request as quickly as possible
the question was only how quickly they could develop the new IBIS unit
they also developed a new mechanical shutter unit
they also developed a new battery
once developed these 3 new things (smaller IBIS, bigger battery, new shutter unit), Fujifilm thought they now satisfied customer demand almost 100%, and they released X-T4
they made X-T3 even better in 18 months
X-T3 will be continued to be manufactured and sold, at a more affordable price point
the most challenging part in the development of Fujifilm X-T4 was the IBIS unit that was even better than previous IBIS unit
also new shutter unit was challenging
Fujifilm GFX medium format system
when asked if they will make the Fujifilm GFX system more affordable, in order to be able to compete with full frame, Toshi says they made the Fujifilm GFX50R at a very attractive price point already and response is great
Fujifilm ambition is always to make a Fujifilm GFX mainstream product
to make it mainstream, Fujifilm must work to make it more affordable, smaller and lighter
Video Functions and Lenses
Fujifilm is a later-comer to the video world. Probably just started with X-T3 to get serious
Fujifilm X-T4 brings video to the higher level
Fujifilm listens what filmmakers need in terms of features, accessories and so forth
because Fujifilm was a later-comer, they had to think "how we differentiate ourselves from competition in an already crowded market"
they differentiate with lenses (the MK lenses, mainstream video lenses) and color reproduction
Fujifilm wants to expand also video lenses
Fujifilm has lots of requests for anamorphic lenses, but Fujifilm just introduced the Fujinon Premista lenses, and market reaction was very positive, and Fujifilm wants to continue their current projects, before they look into anamorphic lenses. Maybe in the future, but right now they focus on their current projects
Join FujiRumors on Patreon, Facebook, Instagram, RSS-feed, Youtube, Flipboard and Twitter
Rumors and Discussions

Stay in the Loop