FUJIFILM Says FULL FRAME Does NOT Make Sense For them NOW and Compares Size, Weight, Price of APS-C with Full Frame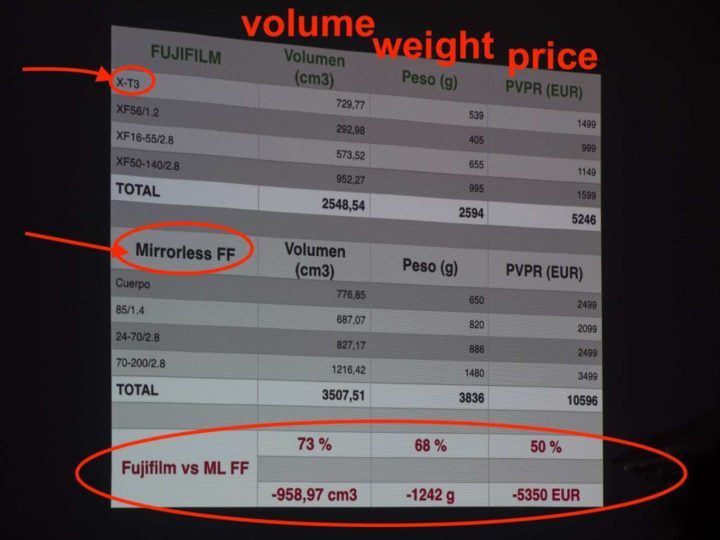 APS-C vs Full Frame
At the Spanish press event for the launch of the Fujifilm X-T3, Fujifilm has displayed a comparison between their Fujifilm X-T3 and a "mirrorless full frame" system. The media slides were published at the Spanish site albomedia.
The comparison should show, how Fujifilm's APS-C system is better balanced in terms of size, weight and price compared to full frame. Well done Fuji, now you opened the Pandora box of equivalency… watch out what happens in the comments ;).
When asked if Fujifilm would enter Full Frame, Fujifilm answered:
"We would have to start from scratch with the optics, and that would not make sense now"
In a recent major poll here on FujiRumors, most FR-readers agree that Fujifilm should stick with their APS-C and medium format systems, and stay away from the full frame slaughter between Sony, Canon, Nikon, Panasonic and maybe even Olympus soon.
As a consequence to your vote, I have shared a list of advantages that APS-C offers over full frame.
Mirrorless vs DSLR
Then Fujifilm also displayed a chart, that shows the overall decline of the camera market, and that DSLR sales are affected most by this decline.
When asked what Fujifilm thinks about the Canon EOS R and the Nikon Z series, they answered:
" it's good news, as it will allow mirrorless to grow. It is always better have 5% of a market of 20 million that 10% of a market of 5 million"
We already discussed this topic in our article "Canon and Nikon enter mirrorless, and Fujifilm is happy about it".