DPReviewTV Instant Camera Shootout: Fujifilm Instax SQ6, Mini 90, Leica Sofort, Mint Instaflex TL70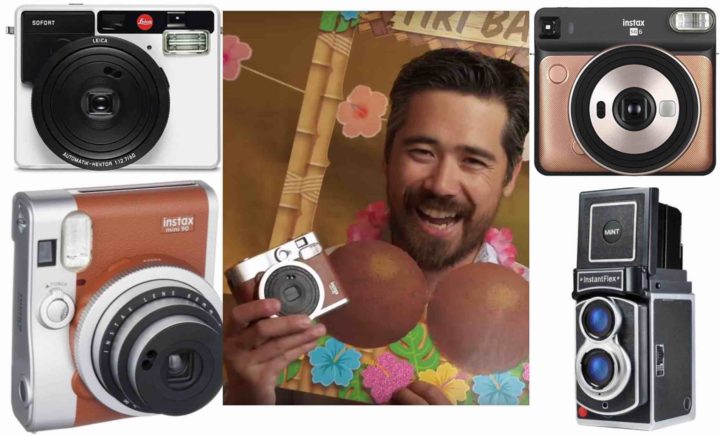 Instax Film Shootout
If you weren't hiding under a rock for the last decade, then you will have noticed that the instant film trend, launched back in 1972 with the iconic Polaroid SX-70 and ended in the nineties, is having an impressive revival thanks to Fujifilm Instax products in recent years.
But how was this revival made possible?
Fujifilm was just about to shut down their entire Instax production just like Polaroid did a few years earlier, when an unexpected event breathed new life into the agonizing market. You can find a more in-depth explanation of the several reasons of the boom here.
Since then, the sales numbers have skyrocketed over anything Fujifilm could have hoped and they passed from 100,000 sold cameras in 2004 to 7,500,000 sales in 2017. In the documentary "How Fujifilm survived the digital age", a Fujifilm Instax employee says they simply can't keep production up with the high demand.
The market is under firm control of Fujifilm and even more so the instax film market, which, as Polaroid says, is 99% controlled by Fujifilm, and we can now find endless versions of it, such as the Star Wars Instax Film, Comic Instax Film, Hello Kitty film, Candy Pop, Rainbow and so on and so forth.
Now, the instax-revival has motivated other companies to try to get a piece of the cake, too.
Polaroid (now owned by The Impossible Project) is fighting hard to try to regain their old glory, not only by offering their own Polaroid Instant Cameras and Polaroid Instant Printers, but also by bringing Fujifilm to court and accusing them that Fuji's latest Instax Square Film design is a rip-off of Polaroids' own film.
Of course as customers we can only be happy that more choices are available on the market now.
Now DPReview TV compared some of the Instant cameras on the market, which all take Fujifilm's Instax Mini film:
Here is what they say:
Fujifilm Mini 90:
PROS: nice retro design, viewfinder top left makes it easier to frame, various modes like kids or party mode, double exposure mode
CONS: tripod mount on the side. Slow lens you need flash otherwise in mid/low light you lose your shots (and money)
Leica Sofort:
CONS: It's a Fuji Mini 90 for twice the price. Just more beautiful design
Mint TL70:
PROS: Twin lens reflex, full aperture control, faster lens, waist level viewfinder, manual focus system, offers more creative controls
CONS: most expensive camera of the bunch. Cheap build quality. Eject button often does not work. There is a lot of stuff that is not well thought out.
Fujifilm SQ6:
PROS: Lots of fun features of the Neo 90 series. Fun Color filters
CONS: Grip is terrible, easy to push the shutter button accidentally. Parallax issue is the worst (in macros the shot is way off to what you see, a common issue to all instax cameras mentioned today, but Instax SQ6 is worst).
Conclusions:
They say that all these Instax cameras are fun (especially on parties), but they say that the risk is they will be fun only for a short time. And it is an expensive experience, since instax film is expensive. You can see the full video comparison at DPReviewTV here.
Which Instax Did FujiRumors choose?
Personally I have an Instax Wide and also an Instax Mini 70. I also have a Fujifilm Instax SP-1 printer that recently broke, so I will get a replacement next.
Well, recently I was looking for an instax present for a good friend, who will become mother very soon.
I initially went for the Instax Wide, but then I realized that she is a hard-core "smartphone photographer", and I simply couldn't see her even thinking of grabbing any camera that is not the one integrated in her smartphone.
So I decided that it's way more convenient to give her an Instax Printer, and after a while of struggling between the Fujifilm Instax SP-3 Square Printer and Instax SP-2 Mini Printer, I went for the SP-2. She just takes quick pictures with her smartphone and I can't see her composing images thinking at the square format for later print.
With the SP-2 printer, she can now simply keep 100% her old habit of shooting with the smartphone, and if she particulary likes an image, just print it later on and stick it on the wall or give it to the grandmother…
… or maybe even put the little prints in the JBcameradesigns instax mini leather album I decided to give her too… but there are other instax mini albums to choose from.