DPReview 2020 Gear Awards: Canon Dethrones Sony, Fujifilm X-S10 Triumph but did they Forget the GFX Lenses?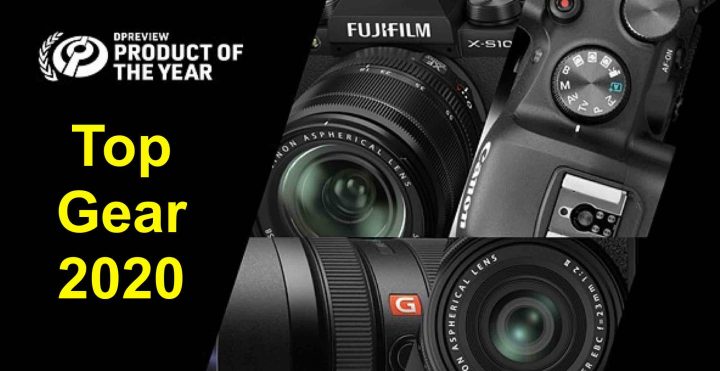 Best Gear 2020
DPReview awarded the best gear of 2020.
Lots of what they say makes sense, but I don't really agree with everything. For example, the Fujifilm X-T4 is second in the mid-range ranking behind the Canon R6, which costs $800 more. For me, the Fujifilm X-T4 is so much better value for money.
Worth to notice, Canon grabs some of the most prestigious top spots, which in the past were usually in solid Sony hands.
And to me totally unsurprising: the little and affordable Fujifilm X-S10 is not only the best entry level camera, but it also grabs the second spot as overall top product 2020.
I am saying it since I've shared the first rumors: Fujifilm is doing lots of things right with the X-S10. If you don't need weather sealing or 2 SD card slots, it's by far the best value for money camera you can buy.
Last but not least the glorious Fujifilm X100V, frankly without any competition in the fixed lens compact camera segment.
What I do not get is the lack of any GFX lens. Not only the Fujinon GF30mm f/3.5 or Fujinon GF45-100mmF/4 have not been awarded, but they did not even enter the shortlist of candidates.
In my opinion the GF lenses would have highly deserved a top spot. But I guess the GFX system is not really on DPR's radar due to rather limited market share, and it's easier to award gear that is also a big hit at the box office.
Let's go through the list.
DPReview product of the year 2020
Fujifilm X-S10
The Fujifilm X-S10 might not bring much to the X-series lineup that's genuinely 'new', but the way that its various features are packaged is extremely impressive – and very appealing. Built around a newly-designed compact IBIS system, the X-S10 breaks with Fujifilm's traditional 'traditional' control layout, offering a slightly more streamlined experience, more in line with competitive models.
These tweaks – plus a large, comfortable grip and a very attractive stills and video feature-set – make the X-S10 a seriously compelling camera for its price. The competition for our 'Product of the Year' award is always very tough, but the Fujifilm X-S10 beats out stiff competition to take the runner-up spot thanks to its uncommonly attractive suite of features, coupled with a great handling experience that make it a pleasure to shoot with.
Best high-end ILC
Best midrange ILC
Fujifilm X-T4
Fujifilm's flagship APS-C format camera, the X-T4 is a model that we find ourselves recommending to friends and family quite often. […]
Now featuring a powerful in-body stabilization system (effective up to an impressive ~6.5EV) and 4K/60p video, the X-T4 is a highly versatile tool. We've seen the 26MP BSI-CMOS sensor before in the X-T3 and X100V, but it's still among the best (if not the best) of its type on the market. Pound for pound and dollar-for-dollar, the Fujifilm X-T4 offers fantastic value, and it's a lot of fun to shoot with, too.
Best entry-level ILC
Fujifilm X-S10
The Fujifilm X-S10 is one of our favorite cameras of the year (spoiler alert). […]
Far from being a 'parts bin' camera, the X-S10 brings something genuinely new to Fujifilm's lineup, offering a more conventional (less dial-driven) interface with a PASM exposure mode control which will be familiar to anyone who has used an entry-level camera from another manufacturer. Its performance, both in terms of autofocus and speed, is excellent, as is image quality in stills and video modes. While just on the cusp of 'midrange' considering its price, if you have the money, the Fujifilm X-S10 is one of the best entry-level ILCs on the market, and takes first place this year in our DPReview Awards.
Best stills / video camera
Best compact/fixed lens camera
Fujifilm X100V
The Fujifilm X100V is the fifth camera in the company's perennially-popular X100 range, and brings far more substantial changes compared to previous iterations. Featuring a new 26MP BSI-CMOS sensor, flip-out, touch-sensitive rear-screen and redesigned lens, the X100V is a significantly better camera than its forebears.
[…] it was very good to see Fujifilm's engineers really grasp the nettle this year and make some bolder updates to the concept. And while some photographers might still consider the X100V's fixed 35mm equivalent lens to be limiting, it's worth noting that the redesigned lens makes the company's wide and tele-converters perform a lot better than they did on some previous X100-series models. For everyday photography the X100V is a reliable and enjoyable companion, and as such it takes the top spot in our 2020 DPReview Award for best compact/fixed-lens camera.
Best zoom lens
Best prime lens
Best accessory
What do you think about the list? Check it out at DPReview and feel free to comment down below.
Follow FujiRumors on Patreon, Facebook, Instagram, RSS-feed, Youtube, Flipboard and Twitter
Join Our Owners Groups
Join Our Facebook Pages