Digital Camera Market Share 2021: Sony Grows Big (+4.9) Fujifilm a Bit (+0.3) and Losses for Canon (-2.1) and Nikon (-2.4)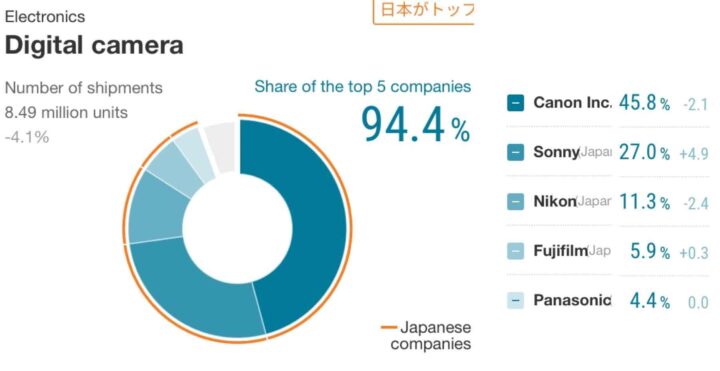 Every year, Techno System Research, a major marketing research company located in Japan, publishes the worldwide camera market share data.
And while the data is behind a (very expensive) paywall, the main chart (see above) for this year has been published by the Japanese Nikkei.
Digital camera 2021 global market share (compared to 2020) *Techno System Research
Canon … 45.8% (-2.1%)
Sony … 27.0% (+4.9%)
Nikon … 11.3% (-2.4%)
Fujifilm … 5.9% (+0.3%)
Panasonic … 4.4% (±0.0%)
This is the data for the entire digital camera market.
I find the mirrorless ranking more interesting, as it is free of all those DSLRs Canon and Nikon still sells.
For mirrorless only, this is the data we had for 2020:
Sony: about 35%
Canon: about 30%
Fujifilm: about 12%
Nikon: about 7%
Once Techno System Research publishes the data for mirrorless cameras only, I will let you know.
via mirrorlessrumors via Nikkei.
Fujifilm X-T5 Stock Check
Fujinon XF30mmF2.8 Macro Stock Check
→ USA: BHphoto / AmazonUS / Adorama
→ Worldwide: AmazonCA / Amazon of Your Country
→ UK: AmazonUK / WexUK / ParkCameraUK
→ EU: AmazonDE / AmazonIT / AmazonFR / AmazonES  / CalumetDE / FotoErhardt / Fotokoch / PCHstore
X-T5 Other Countries
Related Articles