Dear $9,995 Fujifilm GFX100 Coming May 23, Try to Beat these Fujifilm GFX 50 Images – GFX Image Roundup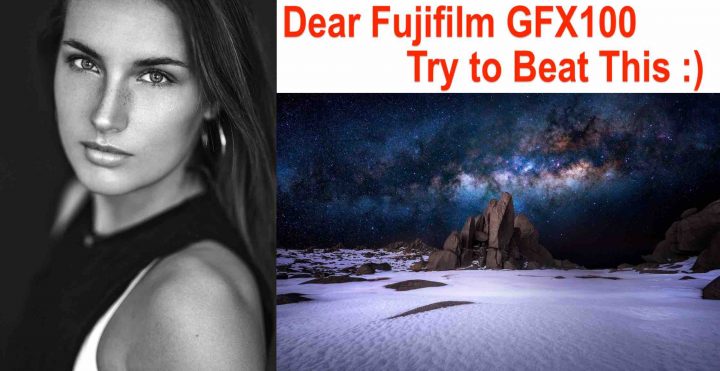 Fujifilm GFX100 Coming
DO NOT MISS IT: Mega GFX100 Announcement Live-Blogging on FujiRumors.com on May 23!!!
The Fujifilm GFX100 will be announced on May 23 and I have no doubt that it will blow us away in terms of image quality.
Beta testers all around the world are part of our Fujifilm GFX facebook group, and ready to publish images there as soon as the embargo is lifted. Join the group, to be there when this happens.
And yet, you should not wait for May 23 to join the group, since current Fujifilm GFX50R and GFX50S owners are hyperactive in our group and share an astonishing amount of stellar images. A small selection can be found down below.
Honestly, looking at what Fujifilm GFX 50R/S owners deliver already today, the Fujifilm GFX100 will have a tough challenge: raise the image quality by a margin, that people will feel it's worth to spend $9,995 for Fujifilm GFX 100 (price leaked by Fuji manager here) instead of $3,999 for GFX 50R or $5,499 for GFX 50S.
I doubt that will be case.
On the other hand, the Fujifilm GFX100 is not only about better image quality.
The 100 megapixel GFX will raise the medium format bar in several other aspects, too: it will offer 4K video, IBIS, 50% faster autofocus, a monumental EVF (that attached on GFX 50 will not give any benfit, sadly), a faster processor and more.
At the end of the day, the combination of all this might justify the $9,995 price tag.
But soon we will be able to make up our own mind.
All you have to do, is to follow the non-stop FujiRumors live blogging on May 23. So make sure to join us on Facebook, Flipboard, Youtube, Instagram, RSS-feed and Twitter
And in the meantime, enjoy the selection of GFX images below.
Stay in the Loop

BE AMAZED BELOW
Hüseyin Taşkın
shared here
GFX 110 mm f2.5
_ _ _
Timothy Poulton shared a post.
shared here
All images captured using the FujiFilm GFX50s
_ _ _
Tuan Nguyen
shared here
GFX50s & 23mm
_ _ _
Timothy Poulton
shared here
480 Seconds never looked so sweet. Captured on the FujiFilm GFX50s and 23mm in Torres del Paine Patagonia
_ _ _
Dong Hai Nguyen Ly
shared here
sunrise by the rock..gfx50s + 16-35 f4
_ _ _
Taner Öner
shared here
GFX 50'R & GF110/2Godox AD600 & AD200
_ _ _
Joe Chen
shared here
GF250mm is one of my favorite lens by Fujifilm !
_ _ _
Taner Öner
shared here
GF110
_ _ _
Dorne Johnson
shared here
Medium Format is now ruling the photography worldPhoto taken by Jonas Jensen
_ _ _
Colin Homes
shared here
Glencoe,Scottish HighlandsFujifilm GFX 50s / GF23mm
_ _ _
Federico Rubio
shared here
GFX + GF 32-64mm f4 @64mm f22
_ _ _
Erick Miseroy
shared here
Princess Cruise ship blocking my view of the sunrise. One of us has to move.. 50s/23mm
_ _ _
GK Kutar
shared here
GFX50s with 110mm F2 lens. I love that lens! ( Sorry for the Facebook quality, I would be happy to learn how to upload in the best way to Facebook. I just chose %50 output quality in Capture 1 ! )
_ _ _
Taner Öner
shared here
Again My Master Lens…GFX 50'R & GF110/2 & Godox AD600
_ _ _
Aaron Russell
shared here
_ _ _
Buvé Bert‎
shared here
_ _ _
Andrew Lam
shared here
Shot with the gfx50s with the 45mm
_ _ _
Richard Ng
shared here
Gfx50s with 250mm. No crop
_ _ _
Michael Falkner
shared here
GFX 50s GF 110mm f2
_ _ _
Patrick Bellair is with Dovile Stap
shared here
Beauty shoot❤️GFX50S 120mm 😍Profoto light 💕Fujifilm Ambassador France
_ _ _
Peter Fallberg
shared here
My first post here in Fujifilm GFX group. Been using Canon cameras all my life but now converted to Fuji GFX. After using this camera (GFX 50S) a couple of month I can say that I will NEVER go back to Canon :)Fujifilm GFX 50STechart EF to GFX adapterCanon TS-E 24/3.5 ver IIImage may contain: cloud, sky and outdoor
_ _ _
Hans van Vrouwerf
shared here
'Let's dance'50r with 32-64
_ _ _
Marco Emme
shared here
110mm
_ _ _
Andrew Tan
shared here
Loving the 110. Such a fun lens to use. Really liking the 50S. I'm slowly climbing the learning curve
_ _ _
GK Kutar
shared here
GFX50s with 45mm F2.8. I just did an editorial shooting for a magazine. I will be sharing more soon…
_ _ _