2019/2020 EISA Awards for Fujifilm X-T3 and Fujifilm GFX100 and a Look Behind the Lucrative Award Business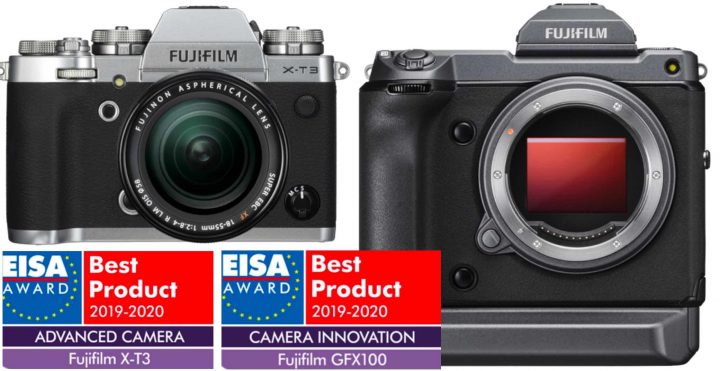 EISA AWARDS
Ok, let's start with the news. The following photography products won the EISA award 2019/2020.
Cameras
Lenses
More Photography Awards
Follow FujiRumors on Facebook, Facebook, RSS-feed, Twitter, Youtube and Instagram
The Awards Business Exposed
Now, I could have given this news today a huge positive hype, by titling this article for example:
EISA Awards: Only Fujifilm wins 2 awards for MILC cameras
But truth is you should take these awards for what they are. And to know what they are, you have to understand how they work.
Last year, after TIPA did not give a single award to Fujifilm, I contacted a couple of sources, and I got an interesting insight into the Awards business, that I shared here.
In short: the whole point of these award commissions is to make money by selling award licenses, meaning the right for companies to use the award logo to promote their products.
It's a big business! Which isn't bad per se, if done fairly and professionally.
But now imagine Fujifilm winning a couple of awards in 2017, but the company decides not to pay for the expensive award licenses, because they prefer to use the money for product R&D, what do you think will happen in 2018?
I mean, if an award company sees that Fujifilm stopped paying in 2017, who will they award in 2018? Fujifilm? Or maybe other companies, which they know for sure are willing to pay for the use of the award logo?
Of course, the lack of awards for Fujifilm in 2018 resulted in lots of bad press ("Fujifilm empty handed, all other companies win"), and hence the order is back, to pay for award licenses.
So all back to normal.
And did you notice? Not a single award for Olympus this year. Did Olympus release only bad products, or maybe the struggling company decided to save money for some real R&D, instead of putting it in some award marketing logo?
And overall, what do you think. In the era of internet, or blogs and youtube, do these award still make sense?
Press Release
Fujifilm's mirrorless digital cameras win the EISA Awards
-FUJIFILM GFX100, equipped with the world's highest 102 million pixels resolution sensor and FUJIFILM X-T3, achieving fast and accurate autofocus
-First win for the GFX Series and 9th consecutive win for the X Series
Tokyo, August 15, 2019 — FUJIFILM Corporation (President: Kenji Sukeno) is pleased to announce that FUJIFILM GFX100 (GFX100), GFX Series of mirrorless digital cameras carrying the Large Format sensor* approximately 1.7 times the size of the 35mm full-frame sensor, and the FUJIFILM X-T3 (X-T3), X Series of mirrorless digital cameras carrying the APS-C sensor, have both won the EISA Awards**. The GFX100 which realizes extraordinary image quality captured by its sensor boasting the world's highest resolution of 102 million pixels*** was chosen as the Best Product in "Camera Innovation 2019 – 2020". The X-T3 which achieves fast and accurate and fast autofocus was named the Best Product in "Advanced Camera 2019 – 2020." This is the first EISA Award the company has won for the GFX Series and marks the ninth-consecutive win for the X Series.
Toshi Iida, General Manager, Optical Device and Electronic Imaging Products Division, commented, "We are very pleased to be recognized by EISA in this way. Both cameras are proving to be very popular and their success is testament to our years of investment in sensor, processor, and optical technologies. My team is passionate about getting it right for our customers. Looking at the demand for these two models, it seems we got things about as right as we could. Demand for the GFX100, especially, has massively exceeded our expectations".
EISA CAMERA INNOVATION 2019-2020 – The "FUJIFILM GFX100" Digital Camera
Commenting on the GFX100, the judges said, "With the GFX100, Fujifilm has made a 100-megapixel medium format camera that does not suffer from the restraints usually associated with large-sensor, high-resolution systems. As the first camera of this type with in-body image stabilisation, it can be used for handheld shooting under a much wider range of conditions. The spring-mounted shutter mechanism is isolated from the sensor, minimising the risk of shutter vibration affecting the sharpness. The GFX100 is also the first medium format camera to offer on-sensor phase detection, which results in much faster autofocus. What's more, it's the first medium format camera to shoot 4K video with no field-of-view crop."
EISA ADVANCED CAMERA 2019-2020 – The "FUJIFILM X-T3" Digital Camera
Commenting on the X-T3, the judges said, "With the X-T3, Fujifilm takes its popular X system to a higher level. The new 26-megapixel X-Trans CMOS 4 image sensor does not require a low-pass filter and therefore delivers unusually detailed images. The camera features extremely fast autofocus and continuous shooting at up to 30fps, making it well suited for action photography. The video mode is equally impressive, offering 4K recording at 60fps along with professional features such as F-Log and Hybrid Log Gamma. Photographers who don't need all of the X-T3's advanced features should also consider its less-expensive sister model, the X-T30."
Fujifilm will continue to work on the development of excellent products and services that address user needs, thereby contributing to the further development of photographic culture
*

The image sensor which has the diagonal length of about 55 mm (43.8 mm x 32.9 mm) and is approx. 1.7 times bigger than a 35 mm full-frame format.

**

EISA (European Imaging and Sound Association) is the association of 55 special interest magazines on cameras, videos and audio equipment from 30 countries. The annual EISA Awards is one of Europe's most prestigious awards given to the most outstanding visual-related products of various categories.

***

For commercially available mirrorless digital cameras as of August 15, 2019, according to Fujifilm