These Are the Top Selling Fujifilm X/GFX Deals on FujiRumors – Last Week to Save up to $1,000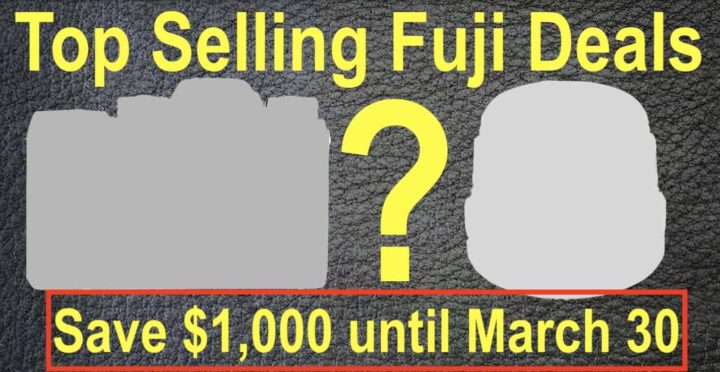 Top Selling Fujifilm Deals
So, the huge Fujifilm X / GFX deals will expire very soon, and I have checked what was the favorite gear the FujiRumors community decided to buy.
And to be clear: the results below are only about Fujifilm gear bought by the FujiRumors community and do not represent the overall sales for Fujifilm.
If you want to see which gear won the best-selling ranking overall in 2018, check out this article.
Top Software
A true migration to Capture One Pro 12 is taking place thanks to a huge 50% discount, which will end in March.
Top 5 Lenses
Fujifilm's f/2 lens line keeps up being your favorite, and you can get them discounted if bundled with X-T30. But the f/2 lenses sell strong also if not included in the bundle.
When it comes to lens deals only, the XF 16mm f/1.4 wins comfortably, followed by Fuji's currently fastest lens (until the XF33mmF1.0 hits the stores next year) and the XF16-55mmF2.8, which, in combination with the Fuji X-H1 IBIS, is a fantastic combo.
Top Third Party Lenses
The recent 1-day-deal on the Mitakon 35mm f/0.95 helped to push sales of this lens on the top.
Top 3 Cameras
Fujifilm X-H1 (new retail price and additional $467 savings if purchased with vertical grip)
Fujifilm X-T3 (save up to $200)
Fujifilm X-T30 (save $300 on bundles)
It's a head to head race between X-H1 and X-T3, with the X-H1 winning by a very small margin. The new low retail price on Fuji X-H1 definitely helped to push sales, making this camera, in my opinion, best value for the money in the current Fuji lineup.
I guess also the recent rumor, that we will not see a Fujifilm X-H2 anytime soon, helped a bit to facilitated X-H1 sales (I confirm this rumor).
The X-T10/20/30 line is notoriously (and undeservedly) a very low selling line here on FujiRumors. It is far behind the X-T3 and X-H1, and in 2018, even the Fujifilm GFX 50R sold better than the Fujifilm X-T20.
However, the recent X-T30 mega-deal on AmazonUS and the current X-T30 bundle deals helped a bit to push it on the 3rd spot.
Top GFX Gear
Fujinon GF100-200 (no deal)
Fujifilm GFX 50R (save up to $1,000 bundle deal)
Fujifilm GFX 50S (new retail price)
Despite the lower new retail price on Fujifilm GFX 50S, the Fujifilm GFX 50R keeps up selling better than the "S". Fujifilm managers said they were surprised by the 50R demand.
Top Accessories
I also just bought the Anker PowerCore+ 26800 PD to charge all my devices on the road, including my Fujifilm X-E3. I am very satisfied with it. If you want to know which other Fujifilm cameras you can charge with, check out this article.
Fujifilm also recommends the Anker PowerCore Speed 20000 PD.
Last Week Fuji X/GFX and Capture One Deals
Capture One Pro 12 Deal of the Year
50% savings on Capture One Pro 12 in the following versions:
Official Fujifilm Deals (save up to $1,000)
PRIME LENSES
ZOOM LENSES

X CAMERA DEALS

GFX BUNDLE DEALS

GFX 50R + GF63mm (save $1,000): BHphoto, Adorama, AmazonUS, FocusCamera
GFX 50R + GF45mm (save $1,000): BHphoto, Adorama, AmazonUS, FocusCamera
GFX 50R + GF32-64mm (save $800): BHphoto, Adorama, AmazonUS, FocusCamera
All Fujifilm Camera Deals
All Fujinon Lens Deals
Third Party & Used Gear Deals
Third Party Lens Deals for Fuji X
Used Fujifilm Gear
Official Fujifilm Recommended Accessories
SD-Cards
Power Banks
Accessories and Apple Deals



Software