The Sony A7C Proves My Point: Full Frame Compromises vs APS-C Balance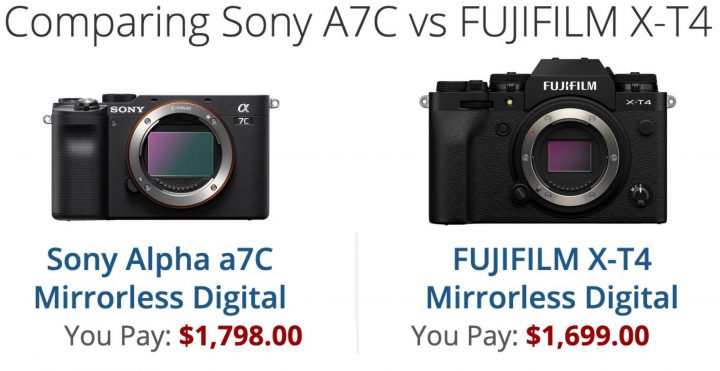 DISCLAIMER: The Sony A7C is a great camera and will push other companies to work harder and to give us customers more features for less price, which is why I love Sony launched it. I think we X shooters will also profit from it.
So, the Sony A7C is real.
It's small and it's full frame.
It's also rather affordable for being full frame, although still more expensive than a high-end APS-C camera like the Fujifilm X-T4.
Now, I could do what other do and focus merely on comparing size and price of the Sony A7C with the Fujifilm X-T4 or other high end APS-C cameras.
Or I could go beyond size and price and compare its features, because only comparing the whole package makes sense.
And as much as Sony has done right with the Sony A7C, it also one more time proves the point I made in an earlier article, where I wrote about the APS-C art of balance vs FF need for compromises.
I used the automatic specs comparison feature at BH to compare both cameras, and here is what I noticed (given for granted the specs comparison tool is accurate, which it usally is):
Sony A7C has a mediocre viewfinder resolution
Sony A7C has a small viewfinder
Sony A7C has significantly inferior video specs compared to X-T4 (such as no 10 bit or 4K60p or way less video codecs)
From the reports I could see, Sony A7C suffers much more of rolling shutter than X-T4
Sony A7C shoots at max 1/4000 mechanical shutter (X-T4 at 1/8000)
Sony A7C shoots at 10 fps (X-T4 at 15fps or even 30 fps with crop and completely blackout free)
Sony A7C has a lower resolution LCD
Sony A7C has single card slot
These are just some of the things I noticed, and that show that APS-C cameras can pack so much more into a small body than full frame, whereas full frame has to consistently make compromises, to try to go below $2,000, and the Sony A7C is no exception to that.
For example:
The Nikon Z5 goes down at $1,400, but has to sacrifice BSI technology, and we know non-BSI sensors have a much slower sensor readout. Hence, max 4fps, huge 1.7x crop in 4K30 and other downsides for the Nikon.
The Canon EOS R6 tries to do better than the Sony A7C and Nikon Z5, by not compromising on video and hardware features (dual UHS-II, nice video specs, nice viewfinder), but that makes it immediately climb up at a $2,500 price tag, hence significantly higher than the Fujifilm X-T4.
So, we can just focus on how small the camera is. Or we can look at the full package.
And the Fujifilm X-T4 is and remains a best allrounder in my opinion (and not only mine, also DPReview thinks this way).
Our Owners Groups
Our Facebook Pages