DPReview Declares Fujifilm X-T4 Best Hybrid Camera under $2,000 and Fujifilm X-T4 vs Sony A7III Comparison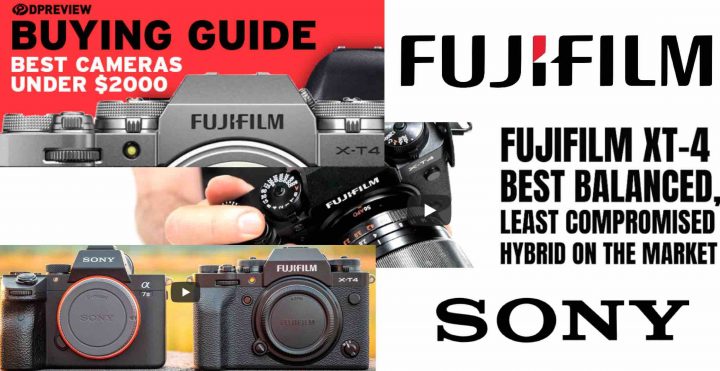 DPReview updated its Buying Guide, and now officially recommends the Fujifilm X-T4 as the best hybrid video/stills camera you can buy for less than $2,000, hence, according to DPR, if you are looking for the best balanced video/stills camera, the X-T4 will serve you better than the second placed camera, the Sony A7III. That's at least according to DPR here.
Fujifilm X-T4 vs Sony A7III?
Down below you will find:
don't miss this – Fujifilm APS-C is Dead? Nikon Z5, Sony A7III, Canon R6 vs the Fujifilm X Series Art of Balance
a comparison between Fujifilm X-T4 and Sony A7III (with summary)
Hugh Brownstone calls the Fujifilm X-T4 the best balanced and least compromised camera on the market
Fujifilm X-T4: BHphoto / AmazonUS / Adorama / FocusCamera
Fujifilm X-T4 vs Sony A7III
The Hybrid Shooter compares the arguable best options for sub. $2,000 cameras, the Sony A7III and the Fujifilm X-T4. Here is what he says:
X-T4 is a very good attempt to make X-T line a complete package
X-T4 is geared towards enthusiasts, with its vintage controls
size and weight is similar, both cameras feel solid and well made
side doors feel plasticy on both cameras
the tilt screen is always more solid than the fully articulating one, hence Sony screen feels more solid
overall both cameras feel premium
X-T4 is one of the best looking cameras on the market
Sony A7III has less pixel density, and hence is much less demanding when it comes to lens quality, hence with the Sony A7III you can get good results with average lenses
with X-T4 you need very good lenses if you want to match the sensor resolution
shallow DOF easier to achieve with Sony due to lens selection
dynamic range on X-T4 is surprisingly good, and he does not think anybody will be disappointed, although the Sony A7III still has an edge
Sony ISO performance is generally one stop cleaner than X-T4 and at higher ISO the difference is about 1.5 stops (including adjusting for exposure difference)
in low light, the X-T4 keeps up very well until ISO 3200 and ISO6400 is still usable in most cases, and the Sony has acceptable amount of noise at 12800
Sony has the edge, but the X-Trans sensor is really good as well
color science is very similar, both accurate colors
Fujifilm has great selection of film simulations, so if you prefer Canon style colors, you can go with Velvia
Sony AF system is basically perfect in video and stills
X-T4 AF is very good in stills. Tracking AF is very good but not quite on Sony level
eye detection on Fuji X-T4 is very good, but not as good as Sony
In video, AF performance of Fuji depends on lenses. Smooth with new lenses, not so smooth with old lenses
Fuji better video specs
he loves ETERNA for video
Sony has no 10 bit, so you can't push color grading as far as Fuji X-T4
also the LOG is better on X-T4 thanks to higher bitrate and better codecs
Sony exposure changes in video are smooth, in Fuji it is stepping
Fuji is the more advanced video camera
Sony has larger grip, but also X-T4 grip is still usable with small to mid-size lenses
the stills/video switch on the Fuji is extremely usable
he wishes the AF-selector mode on the X-T4 would be on the back and not on the front
Fuji is more fun to use, but it is also fun to shoot with Sony
Fuji user interface is a bit better than Sony
the menu on Sony is really outdated, and the Fuji menu is better organized
Sony A7III has only 1 UHS-II compatible slot, the other is UHS-I, with Fuji both are UHS-II
IBIS is better on Fuji X-T4, but it's ok also on the Sony A7III
EVF and LCD is better on X-T4, making the X-T4 more pleasant to work with
he prefers the tilt screen of Sony A7III. He does not like fully articulating screens
Fuji X-T4 has higher fps, but since Sony has more accurate focus, he would pick the Sony for AF tracking
Sony has the best selection at the moment (thanks also to Sigma and Tamron offering)
Fujifilm has very good lenses, but some are quite old and not optimized for newest cameras, also not optimized for video. Not many AF third party options
Sony wins in terms of lens selection
battery life is very good on both, still 35% better on Sony, probably due to lower res. viewfinder and display
Sony is a pragmatic choice
Fuji is the more capable video camera
both cameras are great value at the moment, and you can't go wrong with any of these
there is no clear winner
Fujifilm X-T4 camera: BHphoto / AmazonUS / Adorama / FocusCamera
FujiRumors is on Patreon, Facebook, Instagram, RSS-feed, Youtube, Flipboard and Twitter
→ Top X-T Community: Fujifilm X-T facebook group
→ Top X-T Page: Fujifilm X-T Page