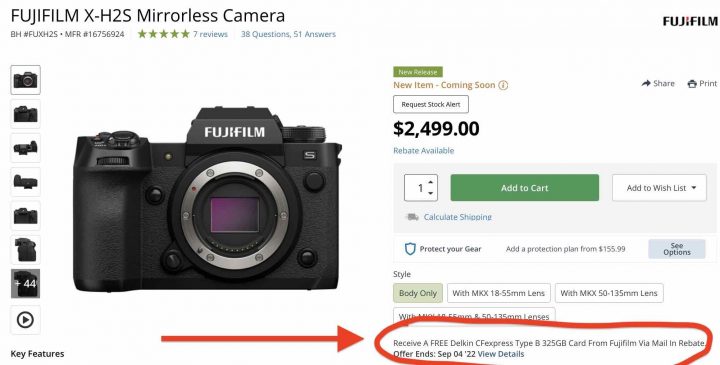 Fujifilm just launched a new deal on the Fujifilm X-H2S.
Those of you who purchases (or have purchased) a Fujifilm X-H2S between May 31 and September 4 (deal for USA), will get a free 325GB Delkin Black CFexpress card worth $400!
Here are the details in short (full terms and conditions below).
Make a qualifying purchase between May 31 – September 4, 2022
Submit your claim by October 2, 2022
Please allow up to 8 weeks for processing and delivery
A nice surprise for all those who already bought a Fujifilm X-H2S and now will get a CFexpress card on top of it for free.
Get Yours:
You know that Fujifilm has published a list of officially recommended CFexpress cards (you can see it below). The recommended ones all work fine on your Fujifilm X-H2S. However, for the best performance overall (longest bursts etc), Fujifilm recommends only these 4 card models. The Delkin Black in offer is one of these top four cards.
The Latest
Full Terms and Conditions