UPDATE: IMX671 is NOT the Sensor of Fujifilm X-H2S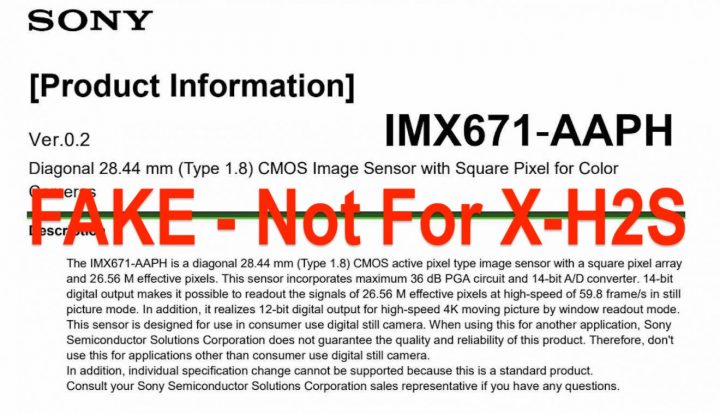 Back on May 31, an anonymous source send me the sensor sheet for the a new IMX671 sensor by Sony.
I was skeptical, and considering our approach to be as accurate as possible, I decided not to share it. I also received the one for the Fujifilm X-H2, and also that one, I did not share it.
Sharing probably fake stuff just for clicks is not what we do here on FujiRumors.
But I guess once the anonymous source noticed FujiRumors would not be tricked to publish it, it started sending that file to several websites, who, hungry for clicks, all published it giving it for granted that this is the Fujifilm X-H2S sensor sheet.
At that point, I had to publish it too, but more because I wanted to warn you that I am very skeptical about it.
So I did what FujiRumors does best: I verified!
Well, I can now say with 110% certainty that the IMX671 is NOT the sensor for the Fujifilm X-H2S and also the other sensor sheet I've received, which the anonymous contact said it's for X-H2, is 110% not for X-H2.
In fact, I don't know if they even exist, or they are just made up. Or they are just sensor for other cameras (maybe Sony, certainly not Fuji).
But what I can tell you for sure, it's that none of them is for Fujifilm X-H2S or Fujifilm X-H2.
In a future not all too distant I will let you know the IMX definition for both sensors in a way you'll see with your own eyes that this was just a fake.
OUR COMMITMENT TO OUR READERS:
In these years I have seen all possible fakes. Websites who claim the X-H line had been axed (but now we got even two of them!!), websites spreading rumors about nonsense lenses like the Fujinon GF56mmF5.6 and much more.
The reason why this happens is simple: they want your attention, your time and your money. And every way to achieve that is legit in their eyes. Yes, they know they fool you, but they don't care, as long as it brings them profit. The only rumors they get right, are the ones they copy from FujiRumors (without quote of course).
But here on FujiRumors we don't share fake rumors as we don't take this kind of shortcut to get your attention and increase traffic.
Our commitment to you: we want to respect your time! And if you honor us with your time, then we want to deserve it by working hard and good, day after day, article after article.
I know that this is the hard way to success, as spreading sensational fake rumors would be a guarantee for traffic (and you can always talk yourself out of it by saying "hey, it's a rumor, doesn't have to be accurate"). But that's not who we are. I just have too much respect for you and your time.