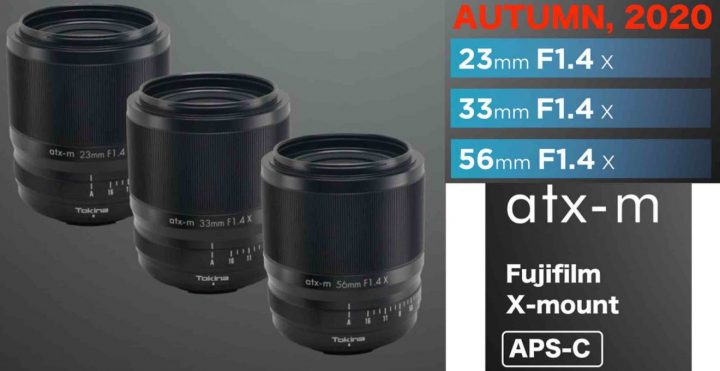 Tokina for Fujifilm X Mount
Back in March Tokina announced the release of three lenses for Fujifilm X mount, the Tokina atx-m 23mm f/1.4, the Tokina atx-m 33mm f/1.4 and the Tokina atx-m 56mm f/1.4.
Now, as reported by nokishita, the first two lenses will be announced very soon and start shipping on December 11. The lenses will be:
Tokina atx-m 23mm f/1.4
Tokina atx-m 33mm f/1.4
Viltrox vs Tokina: Same Same, but Different
We already discussed about the fact if the new Tokina lenses are just rebranded Viltrox lenses. Lots of things seem indeed to indicate that they are indeed just rebranded versions of the same lens.
However, there is a difference we should not overlook.
Viltrox started to release AF lenses for Fujifilm by reverse engineering the X mount AF lens protocols. There was no official cooperation with Fujifilm and we have reported in the past about some bugs with Viltrox lenses, that to be fair Viltrox usually worked hard on to fix, but that's the downside of not having any direct access to the protocols.
That's different with Tokina. In fact, shortly after Tokina announced its new three Fuji X mount lenses, Fujifilm made a statement that they opened their lens protocols and that Tokina is the first to profit from it.
By having access to Fuji's AF lens protocols, it should be easier for Tokina to develop fast, stable and bug-free lenses that work smoothly with Fujifilm cameras and always stay up to date with Fuji's latest autofocus algorithm changes.
I don't know if in the meantime also Viltrox got access to Fuji's AF lens protocols.
What I do hope, though, is that Sigma will. And there was already and official and totally public statement that Sigma made very recently, that gives us hope. Read more down below.
read here: Sigma Says DC DN Lenses for Fujifilm X Mount will Hopefully Come in 2021
via nokishita
Join Our Owners Groups
Join Our Facebook Pages