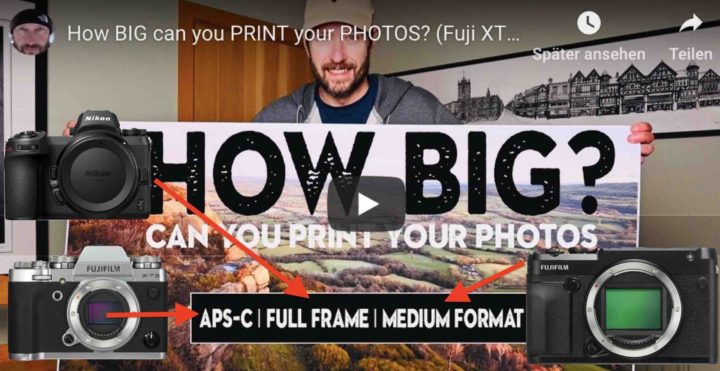 APS-C vs Full Frame vs Medium Format
Nigel Danson has tested the Fujifilm GFX50R for DPReviewTV, and his conclusion is that it has the best image quality he has ever used.
The Fujifilm GFX50R is not a perfect camera, though. It is still expensive, and Fujifilm made some bad ergonmic choices, like the removal of the dedicated ISO dial. And given its form and size, it's also not the easiest to shoot handheld with.
His coverage continues on his own private channel, and this time Nigel compares prints made out of Fujifilm GFX50R, Nikon Z7 and Fujifilm X-T3 files.
Considering that, the bigger the print, the more people will stand back to see the entire image, all cameras deliver good results.
But if you "pixel peep", the Fujifilm X-T3 (which overall delivers very good results also at fairly big prints), has a disadvantage over the higher megapixel of the Fuji GFX50R and Nikon Z7 at very large prints.
Most important, though, are the lenses, and he is blown away by the quality of the Fujinon GF lenses and their corner to corner sharpness.
Check out all the videos below.
Follow FR on Facebook, Instagram, RSS-feed and Twitter
RUMOR, NEWS and COMMUNITY
Price & Specs