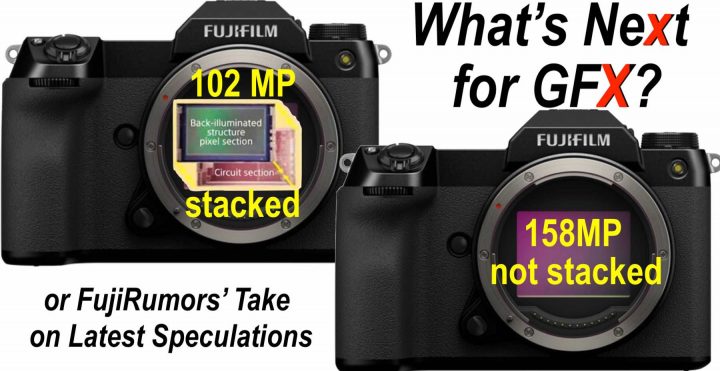 There is pattern in the Fujifilm world.
And the pattern is, that the sensor used on the X series, later on finds its way also on the GFX series.
The only difference? The sensor used in the GFX series comes from the same silicon wafer of the one used for the X series, it is just cut out 4 times bigger (and of course with different CFA array on top, meaning a Bayer vs an X-Trans one).
That's a well known fact for FR-readers, but in case you are still hesitant about it, just read what Fujifilm Nordic told in March 2022, confirming that X and GFX share the same technology also in terms of sensor and processor. Hence, looking at the X series will give indications also on the future of the GFX series.
Well, so let's look at it.
In terms of 5th generation sensors we have:
Assuming that Fujifilm will continue to share the same sensor platform on the X and GFX system, and considering the statements made by Fujifilm Nordic, people believe that Fujifilm will soon launch new GFX cameras using the sensor technology of the X-H2 cameras.
And if I'd sum up the most "rumored" options for the future of GFX, I'd nail it down to three cameras that people think could come in a not so distant future::
Fujifilm GFX100S with 102 MP stacked BSI sensor
Fujifilm GFX150S (or GFX160S) with 158 MP non-stacked BSI sensor
Fujifilm GFX100S MKII (same sensor of current GFX100S but with new processor)
So is this really the case? Let's talk about it.
FujiRumors – My Take on It