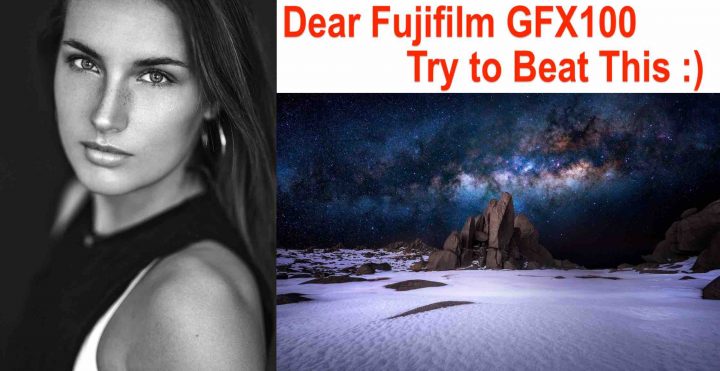 Fujifilm GFX100 Coming
DO NOT MISS IT: Mega GFX100 Announcement Live-Blogging on FujiRumors.com on May 23!!!
The Fujifilm GFX100 will be announced on May 23 and I have no doubt that it will blow us away in terms of image quality.
Beta testers all around the world are part of our Fujifilm GFX facebook group, and ready to publish images there as soon as the embargo is lifted. Join the group, to be there when this happens.
And yet, you should not wait for May 23 to join the group, since current Fujifilm GFX50R and GFX50S owners are hyperactive in our group and share an astonishing amount of stellar images. A small selection can be found down below.
Honestly, looking at what Fujifilm GFX 50R/S owners deliver already today, the Fujifilm GFX100 will have a tough challenge: raise the image quality by a margin, that people will feel it's worth to spend $9,995 for Fujifilm GFX 100 (price leaked by Fuji manager here) instead of $3,999 for GFX 50R or $5,499 for GFX 50S.
I doubt that will be case.
On the other hand, the Fujifilm GFX100 is not only about better image quality.
The 100 megapixel GFX will raise the medium format bar in several other aspects, too: it will offer 4K video, IBIS, 50% faster autofocus, a monumental EVF (that attached on GFX 50 will not give any benfit, sadly), a faster processor and more.
At the end of the day, the combination of all this might justify the $9,995 price tag.
But soon we will be able to make up our own mind.
All you have to do, is to follow the non-stop FujiRumors live blogging on May 23. So make sure to join us on Facebook, Flipboard, Youtube, Instagram, RSS-feed and Twitter
And in the meantime, enjoy the selection of GFX images below.
Stay in the Loop

BE AMAZED BELOW