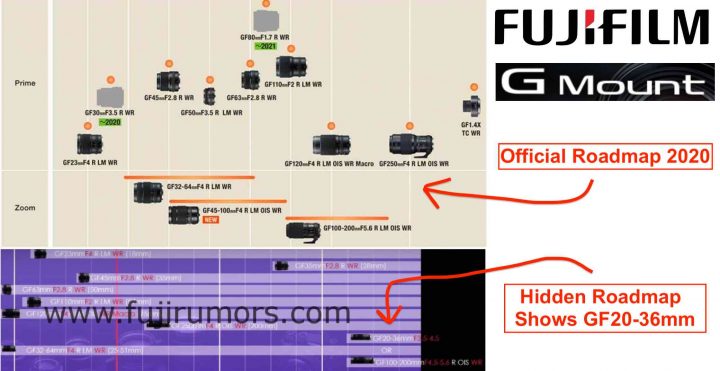 I just gave a quick look at the internal Fujifilm GFX roadmap FujiRumors leaked back in April 2017.
At that time, the internal Fujifilm roadmap considered the following lenses:
GF 35mm F2.8
GF 20-36mm F3.5-4.5
GF 100-200mm F4.5-5.6
The roadmap, that you can see here, mentioned there will be "GF 20-36 or GF 100-200".
Now let's see what we got so far, what changed, and what's missing:
What we got:
What we got, but changed a bit:
GF 100-200mm 5.6 (originally planed as f/4.5-5.6)
GF 30mm F3.5 (originally planed as 35 f/2.8)
What's still missing:
In June 2017, our sources then informed us, that the Fujinon GF 80mm f/1.4 has been added to the internal GF lens roadmap.
But also in this case, it took Fujifilm longer than expected to release it, mainly because of prolonged internal discussions, that ended up changing the lens from GF80mm f/1.4 to the one we find in the newest GF lens roadmap: the Fujinon GF 80mm f/1.7.
So what can we expect next?
Well, the current roadmap officially shows:
2020 – Fujinon GF30mmF3.5 R WR
2021 – Fujinon GF80mmF1.7 R WR
It's strange Fujifilm didn't add any tilt shift lens to the roadmap, because, if you remember the official Fujifilm G mount lens request survey, Fujifilm gave us only tilt shift lenses to vote on.
But as there will be surely at least one more G mount lens coming in 2021 (along with the Fujinon GF80mm f/1.7), maybe we could see one of these two options coming:
Let's hope we will get both these lenses in 2021, in addition to the Fujinon GF80mmF1.7 R WR.
Join FujiRumors on Patreon,  Facebook, Flipboard, RSS-feed, Twitter, Youtube and Instagram
Our Owners Groups
Our Facebook Pages