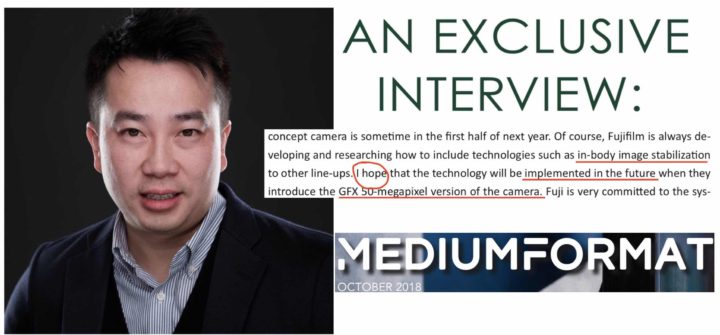 Fujifilm GFX 50 IBIS
I was reading the first edition of the brand new Medium Format magazine, when I stumbled on this answer of Fuji Guy Billy.
"QUESTION: Will this stabilization system eventually find its way to lower-priced medium format cameras or are you going to keep it for the top of the range for now?
ANSWER: It's very early to talk about that. I think our official announcement of this 100-megapixel concept camera is sometime in the first half of next year. Of course, Fujifilm is always developing and researching how to include technologies such as in-body image stabilization to other line-ups. I hope that the technology will be implemented in the future when they introduce the GFX 50 megapixel version of the camera."
If there ever will be a Fujifilm GFX 50 Megapixel camera with IBIS, Fuji's medium format system would consist in:
Fujifilm GFX 50 with IBIS
And btw, I am really enjoying to go through the 140 pages of the medium format magazine, and I look forward to the next editions. Make sure to check it out at mediumformat.com. Lots of talented photographers sharing their thoughts and images there. It covers not only Fujifilm GFX, but also other medium format systems.
Fujifilm GFX 50R BHphoto, Adorama, AmazonUS
Fujifilm GFX 50s: BHphoto, Adorama, AmazonUS
Follow FR on Facebook, Instagram, RSS-feed and Twitter
RUMOR, NEWS and COMMUNITY
Fujifilm GFX facebook group
Fujifilm GFX facebook page