Photons to Photos Dynamic Range Data: Fujifilm X-Pro3 Beats Fujifilm X-T3 and X-T30 – NOT :)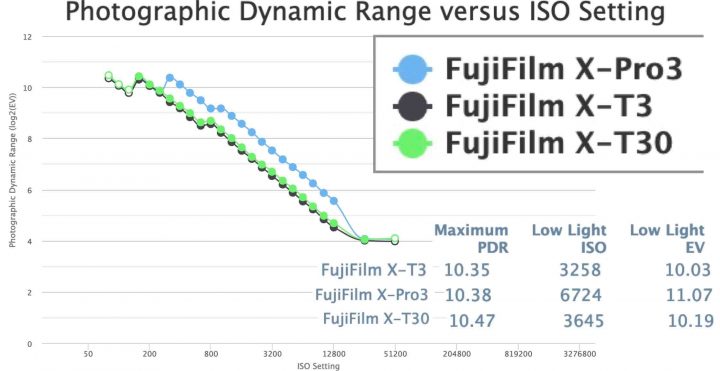 Photons to Photos added the Fujifilm X-Pro3 to their database, and you can now compare it to all other cameras in their database.
I did compare it to the Fujifilm X-T3 and Fujifilm X-T30, and the Fujifilm X-Pro3, despite having the same processor and sensor, shows a sensible advantage over the X-T3 and X-T30.
So has it better dynamic range?
Bill Claff explains:
The X-Pro3 appears to have improved PDR but it is an illusion.

It's well known that Fuji implements the ISO setting in an unusual way.
In this case they have given ISO 320 to ISO 12800 an addition 1 stop boost.

Fuji uses a proprietary Exif tag called "Raw Exposure Bias" to indicate how much they have shifted the raw data from "standard".

Adjusted in Excel for Raw Exposure Bias we see that the X-Pro3 and X-T3 are essentially identical. (They shift to dual conversion gain at a slightly different point).
You can access and manipulate the data here at Photons to Photos. Bill Claff's comment has been added on dpreview.
Don't forget to…