NOW OR NEVER: Terrific Fujifilm X-H1 Deal is Ending and Rebates on Fujifilm X-T3, X-T2 and GFX50R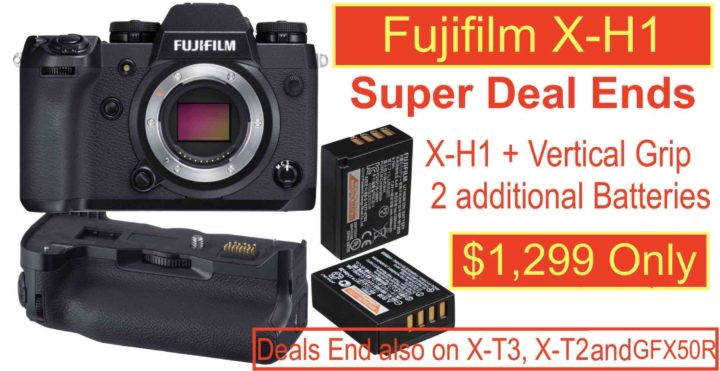 Fujifilm Deals Ending
To check-out, or not to check-out, that is the question!
If in the last few weeks you were stuck in the dilemma if you should get the crazy deal on the Fujifilm X-H1 or not, the good news is that your struggles will be over soon.
In fact, the terrific Fujifilm X-H1 deal expires on January 26, hence it's time to make a decision. And after that, you will be relieved of all rumination.
The offer is tempting: Fujifilm X-H1 + vertical grip + two additional batteries for $1,299!
And also the deals on Fujifilm X-T3 (save up to $200), Fujifilm GFX50R (save up to $1,000), Fujifilm X-T2 (save up to $629) expire. Check out the full list below.
Fujifilm X and GFX Cameras
New Manufacturer's Suggested Retail Price (MSRP)

Camera/Lens Deals
Fujifilm Camera Deals
Fujinon Lens Deals
Third Party Lens Deals for Fuji X
Used Fujifilm Gear
Official Fujifilm Recommended Accessories
SD-Cards
Power Banks
Accessories and Apple Deals