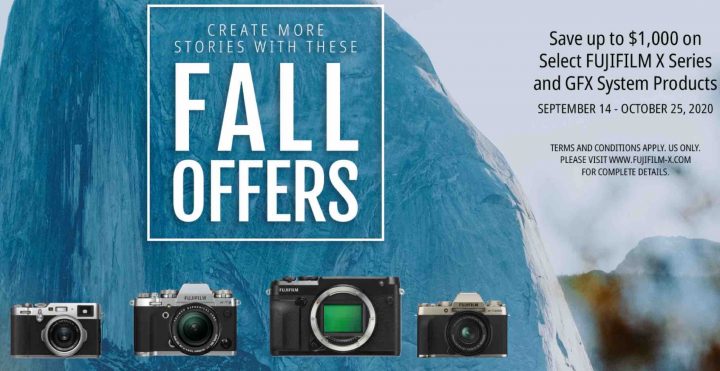 Fujifilm X and GFX Deals
The current round of Fujifilm X and GFX deals will end today.
XF Lens Deals
X Camera Deals
GFX Bodies
X100V deal
If you purchase of Fujifilm X100V, you get a free DOMKE Medium Camera bag or DOMKE Camera Strap. To read all details, go to the BHphoto X100V page and click on the link we show you in the screenshot above or read the full Terms and Conditions below.
Capture One Deal
Phase One is getting read to launch Capture One 21, and they do so by offering a nice deals. Here it is:
if you own an older Capture One version (ver. 12 or older), you can now upgrade to Capture One 20 and you'll get a free upgrade to Capture One 21 as soon as it released
if you own Capture One 20 already, you can pre-order Capture One 21 with a 20% discount using code "PREORDER2020"
How to access the deal:
Login to Capture One
Go to the upgrade page and enter your license number
Upgrade to C21 and get the 20% discount using the checkout code "PREORDER2020"
If you pick the second option (pre-order with 20% discount), you'll also get a Sample styles pack for free. This pack will include 5 styles out of Capture One's most famous collections (Beyond Film, Beyond B&W, Film, Seasonal, Latitude – Sunbound).
You can get Capture One 20 here and upgrade here.