New Fujifilm Camera FF200002 Registered on January 31, 2021, and Why It's a Curious Case (X-E4)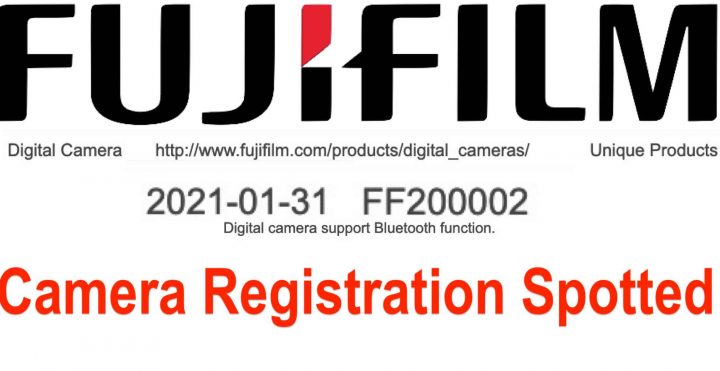 FR-reader Kent (thanks), just informed me that he spotted the registration made on January 31, 2021, of a new Fujifilm digital camera with the code name FF200002.
The strange thing here is, that in terms of registrations we had two registered cameras recently:
It was just a matter of time until the FF200002 would appear, and it did so on January 31 at the launchstudio bluetooth registration page here.
So which camera is the FF200002?
The answer is: the Fujifilm X-E4!
I know that, because I have watched countless of youtube videos about the X-E4, and in one of them I noticed that when the screen was flipped out, on the backside of the camera you could read "FF200002".
But it's strange: the X-E4 is the first camera that gets registered after it has been announced. We told you in this article that it Fujifilm usually registers cameras from 1 to 6 months ahead of announcement.
Well, I guess this means from now on we have to count also with the possibility, that Fujifilm will announce cameras without them appearing first on some sort of registration website. But don't worry about that, I will let you know in advance anyway what will come ;).
So let's update our original article, where we illustrate the time span between registration and announcement of new Fujifilm gear:
registered 1 month before announcement = 4 cameras (X-T2, X-E3, X-T100, X-T30)
registered 2 months before announcement = 3 cameras (X-T20, X100F, XF10)
registered 3 months before announcement = 3 cameras (X-T3, GFX50R, GFX100)
registered 6 months before announcement = 2 cameras (X-H1, X100V)
registered 4 days after after announcement = 1 camera (X-E4)
Follow FujiRumors on Patreon, Facebook, Instagram, RSS-feed, Youtube, Flipboard and Twitter
Join Our Owners Groups
Join Our Facebook Pages