New Fujifilm Camera Registered and Coming October 16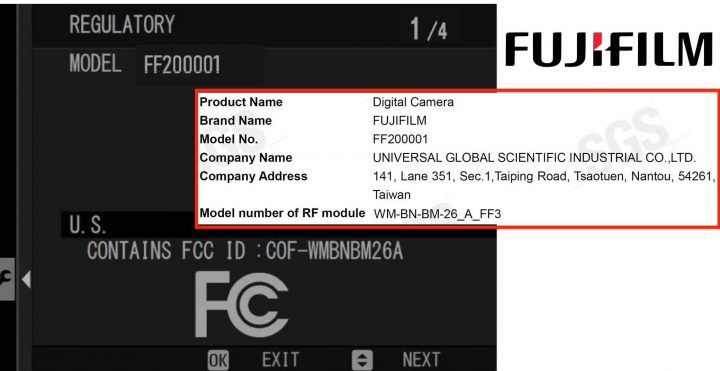 Nokishita spotted the registration of a new Fujifilm camera, the FF200001.
Fujifilm's digital camera "FF200001" has passed FCC certification. Equipped with Wi-Fi (802.11b/g/n) and Bluetooth (same RF module as X-Pro3 model number [WM-BN-BM-26 _A_ FF3 ]) .

he designated date for public disclosure of the certified material is October 16, 2020.

This is a list of model numbers of Fujifilm wireless parts, which is not very helpful

WM-BN-BM-26_A: X-E3
WM-BN-BM-26 _A_ FF2: X-H1/GFX50R
WM-BN-BM-26 _A_ FF3: X-Pro3/X-T3/X-T30
WM-BN-BM-26 _A_ FF4: X100V
WM-BN-BM-26 _A_ FF5: X-T4
WM-BAC-BM-25: GFX100
TYPE1FJ: X-A7/X-T200
It's obviously not the Fujifilm X-Pro4, that I can say for sure! :)
If you want to know what it is, we invite you to stay tuned on FujiRumors.
Follow FujiRumors: Patreon, Facebook, Instagram, RSS-feed, Youtube, Flipboard and Twitter
via nokishita
Join Our Owners Groups
Join Our Facebook Pages