Fujifilm Patent: 48mm F1.2 Lens for Mirrorless Camera with 1 inch-type Sensor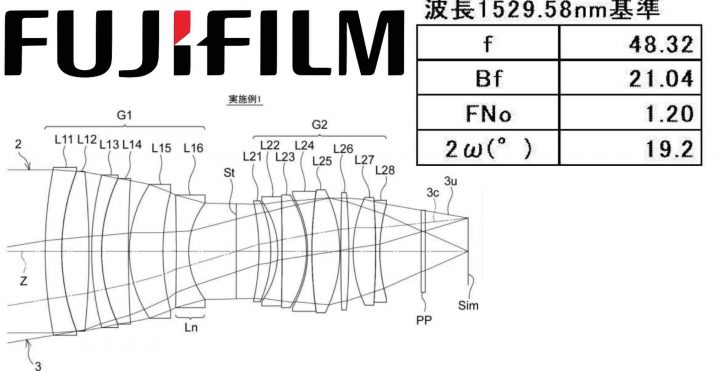 A patent has been spotted of a 48mm f/1.2 lens for mirrorless cameras with 1 inch-type sensor at j-platpat.inpit.go.jp here via hi-lows-note.
FUJIFILM filed a patent describing lenses for short wave infrared cameras with 1″-type sensor.
Fujifilm was once very active in the compact camera segment, with cameras like the Fujifilm XF1 but especially the Fujifilm X10, X20 and X30 series as well as the Fujifilm XQ1 and XQ2.
All these cameras featured a 2/3 sensor (in some cases an excellent 2/3 X-Trans sensor).
However, Fuji's 2/3″ sensor camera line didn't get the success it deserved and its last model, the X30, got discontinued in 2016. The market prefered 1″ sensor compact cameras like the Sony RX100 series.
But both, the 2/3″ as well as 1″ sensor compact camera market is basically dead now, due to smartphone cameras getting better.
A curious fact?
Fujifilm used to make its own sensors in the past, but then sold their sensor business to Toshiba. But guess who came in 2015 and bought the sensor business from Toshiba? You got, it was Sony back in 2015!
I wonder if somebody at Fujifilm regrets that decision today.
Join Our Owners Groups
Join Our Facebook Pages