New Fuji X Deals in USA :: Save Up to $350!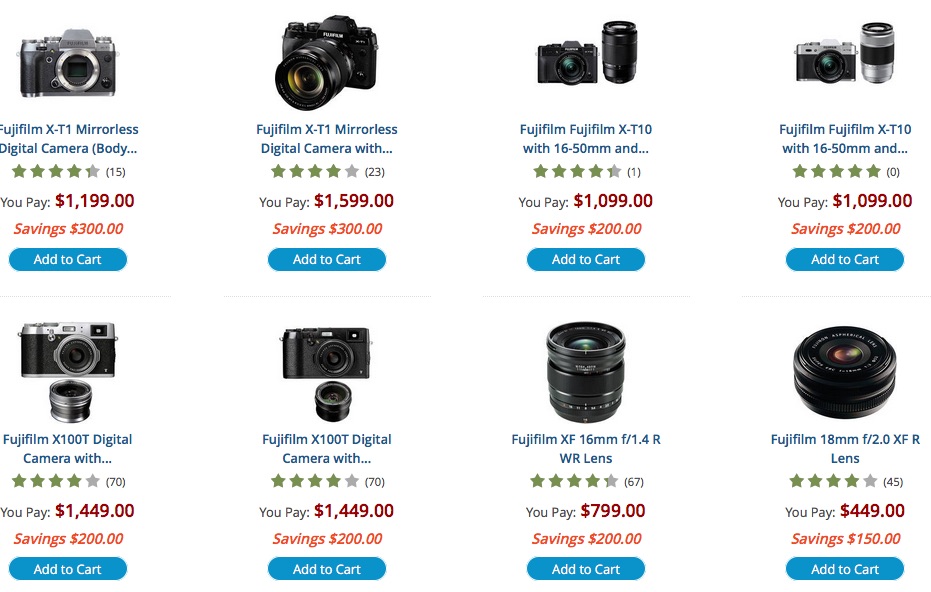 As rumored, here are the new X-deals. Full X-Deals Overview at BHphoto and Adorama.
There is also a deal on the X-Pro2. Buy it with a lens, and you'll get the a Domke Bag for free. All details below.
Keep in Mind that X-deals are currently running also in Europe. I recommend you to grab your X-gear now, since Fuji will increase prices in September.
Lenses
exp. Oct. 1

XF 14mm (save $300): BHphoto / AmazonUS / FocusCamera / Adorama /Pictureline
XF 16mmF1.4 WR: USA (save $200): BHphoto / AmazonUS / Adorama / Pictureline
XF 18mm (save $150): BHphoto / AmazonUS / FocusCamera / Adorama / Pictureline
XF 23mm (save $250):  BHphoto / AmazonUS / FocusCamera / Adorama / Pictureline
XF 27mm (save $100): BHphoto / AmazonUS / FocusCamera / Adorama / Pictureline
XF 35mmF1.4 (save $150): BHphoto / AmazonUS / FocusCamera / Adorama / Pictureline
XF 56mm APD (save $300): BHphoto / AmazonUS / FocusCamera / Adorama / Pictureline
XF 56mm (save $200): BHphoto / AmazonUS / FocusCamera / Adorama / Pictureline
XF 60mm (save $100): BHphoto / AmazonUS / FocusCamera / Adorama / Pictureline
XF 90mmF2 WR (save $200): BHphoto / AmazonUS / FocusCamera / Adorama
XF 10-24mm (save $200): BHphoto / AmazonUS / FocusCamera / Adorama / Pictureline
XF 16-55mmF2.8 WR (save $200): BHphoto / AmazonUS / FocusCamera / Adorama / Pictureline
XF 50-140mmF2.8 WR (save $150): BHphoto / AmazonUS / FocusCamera / Adorama
XF 50-140 + XF 100-400 (save $300): BHphoto / AmazonUS / Adorama
XF 18-135mm (save $200): BHphoto / AmazonUS / FocusCamera / Adorama / Pictureline
XF 55-200mm (save $100): BHphoto / AmazonUS / FocusCamera / Adorama / Pictureline
XF 50-140mmm + 1.4xTC (save $349): BHphoto / AmazonUS
XF 100-400mm + 1.4xTC (save $349): BHphoto / AmazonUS / Adorama
XF 50-140 + 2.0 TC (save $349): BHphoto / AmazonUS / Adorama
XF 100-400 + 2.0 TC (save $349): BHphoto / AmazonUS / Adorama
Cameras
exp. Sept.17

Fuji X-Pro2 with Lens + Free Domke F-5XB Camera Bag (save $300): BHphoto / AmazonUS / FocusCamera / Adorama / Pictureline / BestBuy
Fujifilm X-T1 (save $300)*: BHphoto / AmazonUS / FocusCamera / Adorama / Pictureline
X-T1 Graphite Silver (save $300)*: BHphoto / AmazonUS / FocusCamera / Adorama / Pictureline
X-T1 + 18-135 (save $300)*: BHphoto / AmazonUS / FocusCamera / Adorama / Pictureline
X-T1 + 18-55 (save $300)*: BHphoto / AmazonUS / FocusCamera / Adorama / Pictureline
*Free Vertical Hand Grip Included
X100T + WCL-X100 (save $200): BHphoto / AmazonUS / Adorama