More Fujifilm X-T4 Specs Leaked: up to 6.5 stops IBIS, fast Battery Charging, Multiple Boosts Mode, Price $1,700 & More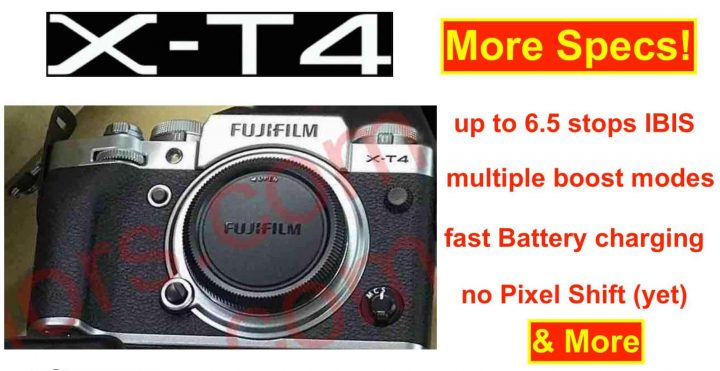 Earlier today we dedicated an own article to one important rumor, a source shared with us (thanks a lot again!): the price of the Fujifilm X-T4.
But I told you that I wanted the price to be discussed separately, and in fact we reached almost 200 comments in less then three hours. So please for all comments regarding the price, check this post.
As I anticipated to you, our contact shared even more with us today (separately to what he told to us yesterday, and we shared everything in this article, like the new film simulation).
So, after the price, here is everything else I got.
No Pixel-shift yet.
USB PD protocol implemented, as it charged very quickly with a PD 30W USB-C charger. Not so fast with a normal QC charger.
IBIS can go up to 6.5 stops with some of the prime lenses.
Priced at 1700 USD.
Multiple Boost modes including normal / economy / boost AF / boost FPS / boost Res etc.
The Fujifilm X-T4 will be announced February 25/26 (depending on your time zone here)
TO THE SOURCE (who contacts me via rumor box): I skipped one single point (and you probably know what it is), because I did not fully understand it. Maybe there is a way you can explain it to me again? If you want, just use the rumor box again with your nickname. That would be great already. Of, if you want, you can always reach out to me via email at fujirumor@gmail.com.
Join FujiRumors on Patreon, Facebook, Instagram, RSS-feed, Youtube, Flipboard and Twitter
→ Top X-T Community: Fujifilm X-T facebook group
→ Top X-T Page: Fujifilm X-T Page