EXCLUSIVE: Fujifilm X-T4 Coming with New Bleach Bypass Film Simulation, 15 fps CH, 1.62m dots Screen and More Specs Leaked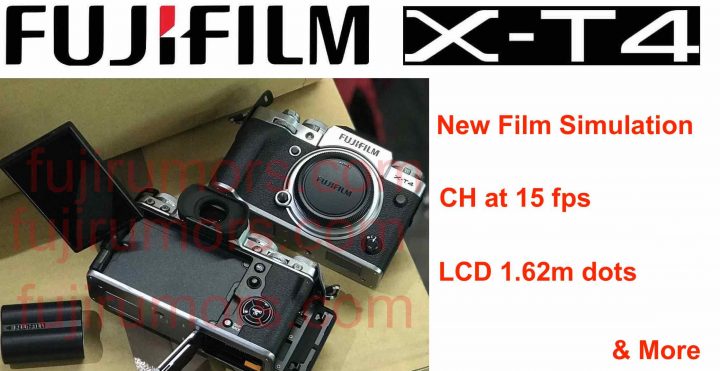 We have just received additional specs about the Fujifilm X-T4 (thanks a lot for your help!).
X-T4 rear screen 1.62m dots [X-T3 has 1.04m dots]
IBIS is great.
NP-W325 battery rated at 2200mAh 16Wh
Classic Negative and Bleach Bypass film simulation added.
CH mode has 15 fps, and the slots are faster at writing to cards. [X-T3 has 11 fps]
Not a touch shutter like X-H1. [the leaf spring shutter release button]
Join FujiRumors on Patreon, Facebook, Instagram, RSS-feed, Youtube, Flipboard and Twitter
Here is how wikipedia describes bleach bypass:
Bleach bypass, also known as skip bleach or silver retention, is a chemical effect which entails either the partial or complete skipping of the bleaching function during the processing of a color film.

By doing this, the silver is retained in the emulsion along with the color dyes.

The result is a black-and-white image over a color image. The images usually have reduced saturation and exposure latitude, along with increased contrast and graininess. It usually is used to maximum effect in conjunction with a one-stop underexposure.
The Fujifilm X-T4 will be announced February 25/26 (depending on your time zone here)
→ Top X-T Community: Fujifilm X-T facebook group
→ Top X-T Page: Fujifilm X-T Page