Major Fujifilm X-Pro2 Kaizen Firmware Update Will Add 4K Video and More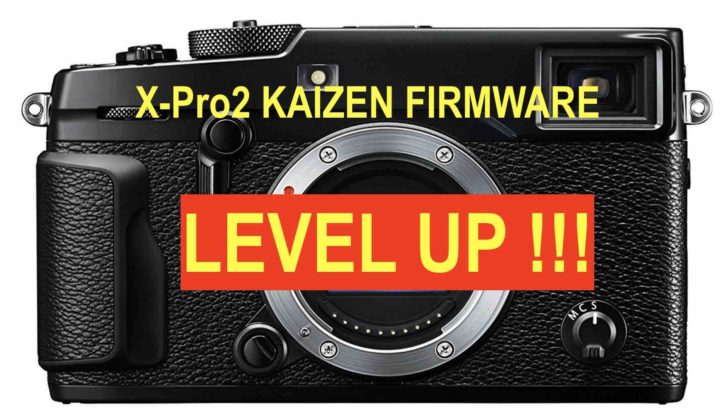 There Will Be Kaizen
Heay gsiys I AMSMAZING casnT BNelive…
* * Dutch vegetable break * *

Sorry, I was too excited to type… but now I'm more calm… so let me try again to write it down for you ;)
Dear Fujifilm Shooters,
some of you might remember, when back in 2013, the godfather of the Fujifilm X-series, Mr. Kawahara, said in this interview of 2013 that they are committed to improve their cameras via firmware updates because "we want you to use our camera longer and longer in your life." (Note: Kawahara left Fujifilm in 2016, as reported here).
And indeed, we have seen many huge Kaizen firmware updates for many cameras in these years.
The FW updates were so big, that Fujifilm had to re-write entire camera manuals several times and Rico had to republish updated versions of his Fuji Tips and Tricks ebooks. And (unless you are an X100S/T) owner, you had the pleasure to feel what it means to "download a complete new camera… for free".
Well… today I'm very excited to tell you, that there will be Kaizen love again… also for the Fujifilm X-Pro2!
Fujifilm X-Pro2: Level Up

I hear from trusted sources, that Fujifilm is working on a major firmware update for the Fujifilm X-Pro2, which will, among the others, give X-Pro2 owners 4K video and more.
Here on FujiRumors, the community asked for 4K on X-Pro2 multiple times, in dedicated articles and comments, and finally also Fuji Guy Billy joined Fujirumors critics on February 2017, when he said here he is also "fighting with Japan" to implement 4K on X-Pro2.
Well… it seemed all this pressure helped ;)
So, dear X-Pro2 shooters… be patient, and you will get your Kaizen Love.
Oh… and feel free to share the joy with all of us at the Fujifilm X-Pro user group on facebook. We also have an X-T User Group, if you are interested.
Time To Dream
4K is sure. But what else would you like? Tethering? And maybe the ability to adjust ISO via command dial? Anything else? Well, then say it here in the comments… you know those guys at the Fujifilm headquarter read us and X-ray your comments :)
*** You've Got The Power ***

Can Fujifilm ignore a unique community on the world-wide web that is able to drop 11,000 votes in a single poll within 2 days? Nope, they simply can't :)
And if there is a reason why Fujifilm's most known top manager, Toshihisa Iida, "loves" FujiRumors, then it's because you guys provide Fujifilm an umatched amount of (free) feedback every single day in your comment and poll votes.
Your diligent (and massive) participation allowed Fujirumors to become the privileged channel that connects Fujifilm to its customers… this is more that I could have ever hoped for this blog! Thanks guys :)
Now, to keep our feet well set on the ground, I will also say that I'm aware we can't always influence Fujifilm's decision…
… however, sometimes, we can :)
In fact, it was your feedback and negative poll results, that killed the monochrome X-Pro1 and your positive pressure that revived the X-E3 plans and made Fujifilm say here "we are aware of the many X-E3 request".  The feedback you give in polls makes it to internal Fujifilm meetings with the Press and, as said before, even Fujifilm top manager Toshihisa Iida "Loves" FujiRumors.
So guys, never stop it and keep up sharing your daily feedback to Fujifilm :)
have a GREAT day,

Facebook, RSS-feed and Twitter
Sony's Fast & Furious Hardware Updates Vs. Fuji's Kaizen Philosophy :: What's the Better Strategy to Win the Mirrorless Battle? – POLL