Is it MADNESS? Selling Fujinon XF56mmF1.2 for XF50mmF1.0 – POLL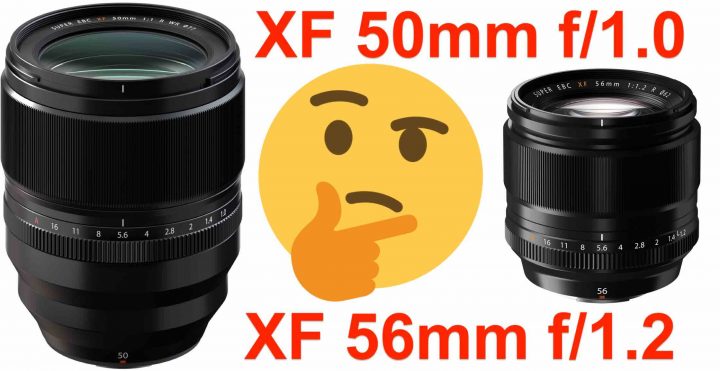 In these days I get several emails from FR-readers, asking me if it's worth to sell their (currently discounted) XF56mmF1.2 to get the brand new XF50mmF1.0.
As usual such a question is not easy to answer.
The best I can do, is to share you my own struggles and thoughts, and hope that there is something among it, that you might find useful for your own decision.
So, here is the thing.
I can't deny that personally I am very tempted by the XF50mmF1, too. And it's not (only) because of that super fast aperture, but there are actually 4½ other (and even more important) reasons, why it's tempting me (I explained the reasons here).
But I just bought the 56/1.2 a few months ago (thinking I would use it at my friends' wedding, which then was canceled due to COVID). So given this very recent investment, I am holding on a bit.
However, if I'd not own the XF56mmF1.2 already, I'd without a doubt go immediately for the XF50mmF1.0 (with shallower DOF being actually not a reason for my decision… other points I elaborated here are more important).
And size? Wouldn't it annoy me that the 50/1 is considerably bigger than the 56/1.2?
Not at all.
The 50/1 is not a lens I'd take with me when I hike several hours on my mountains (you can see me eating my sandwitch here at the Antermoia lake in the Dolomites) or when making a 3-day city-trip.
The 56mmF1.2 or XF50mmF1.0 are lenses I consider to use mainly at "events", may it be my friends' wedding, but also simple things, like photographing Christmas with family, a lunch with relatives, a grill party with friends… candid portraits to take in moments when people come together.
For such occasions, a bigger sized lens does not really bother me.
But selling my XF56mmF1.2?
Well, the love for the XF56mmF1.2 is still so fresh, as I just bought it. Just yesterday I photographed my 15+ years old dog during a short walk in the forest with the 56/1.2, and I loved it.
And yet, selling the 56 to get the XF50mmF1.0 remains a serious temptation also for me.
So, as usual when we stuck on struggles like this one, we just ask the community: what do you guys recommend us XF56mmF1.2 to do?
Feel free to vote the survey down below.

Loading ...
_ _ _

Loading ...
_ _ _