Fujinon XF80mm f/2.8 Macro 3D Printed Tripod Mount Support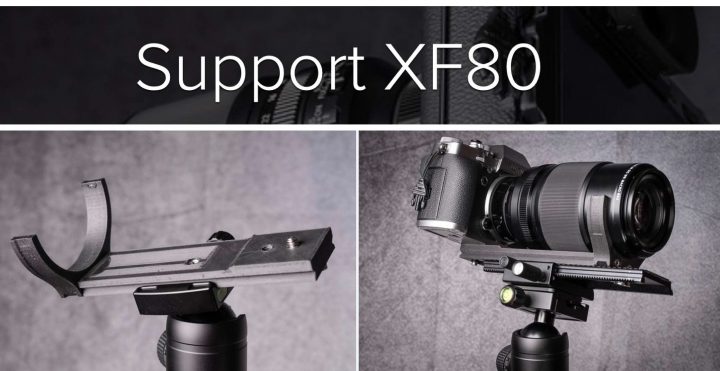 Fujinon XF 80 Macro tripod mount support 3D printed
by Andrees – Instagram

Recently I bought the XF 80 Macro after I got rid of the extension tubes which not as comfortable as a dedicated macro lens. After the first use with the X-T3 and a tripod I understood, why so many users claim a ring bracket for tripod mount.
Well, one of my several other hobbies is 3D printing and I was looking for a new printing project. So I had a new one: a stable and comfortable tripod mount for the combination of the XF80 and the X-T3.
I quickly came to the point, that there's not enough space for a ring bracket close to the center of gravity. Then I had the idea for a support mount that's fixed via the tripod thread mount of the camera and a support ring at the front of the lens. Well, the 3D CAD design for the first prototype took about 2 hours and the print was done in 8 hours over night on two printers with different material types: ASA (ABS) and a carbon fibre added co polymer, I didn't use before.
The result with the new co polymer was really good! And the part was very stiff. It just worked from the beginning. The tripod mount is realized by the Arca Swiss compatible contour of the base. So the project was done. No! I forgot the combination of XF80 with the XF1.4 TC! Okay, new base 15 mm longer plus 2 second screw hole. And what if I want to mount it on a macro skid? So there hat to be a 1/4" screw mount as well.
After all these iterations I don't have many more ideas for improvements. It's quite comfortable in the usage as you can keep it in the center of gravity, it supports the lens in portrait mode as well, it can be secured with a releasable zip tie if necessary, the only thing it can not is rotating around the lens axis.
Fujinon XF 80mmF2.8 Macro: BHphoto, Adorama, AmazonUS, FocusCamera