Fujifilm X-T3 vs Canon EOS RP: Which Camera Will Save Your Butt if you Underexpose an Image?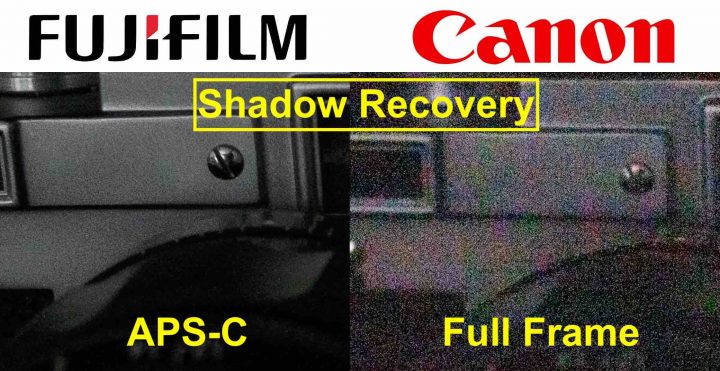 Fujifilm X-T3
After his Canon vs Fujifilm colors comparison, Andrew has now published his full Fujifilm X-T3 vs Canon EOS RP comparison.
Yep, once again, Full Frame vs APS-C… and we find out, that sensor size is not all that matters.
Also sensor technology is important. Canon has its own sensors, which are great in many ways (ie dual pixel AF), but have one shortcoming: they are not iso-less (or iso-invariant) as Sony sensors are (which are used by Fujifilm).
Here is a summary of the video (full video below):
both cameras deliver spectacular images
both 26 megapixel
Canon sensor is 1.5 times larger than X-T3
Andrew can assure you that the assumption full frame is always better is false
detail rendering is same
full frame sensor has slight low light advantage at ISO 3,200
however, ISO values are not all create equal, so better test is to underexpose an image and then recover it
shadow recovery: Canon looks horrible compared to Fujifilm X-T3 (see image above)
Canon sensor is not ISO-less or ISO-Invariant
low light performance is slightly better on the Canon, if properly exposed
you must decide what do you want: a camera with slightly less noise if properly exposed, or a camera that saves your butt if you underexpose an image?
– FUJIRUMORS: I have shown Fuji's APS-C impressive shadow recovery potential here
Canon RP gives you shallower DOF when shot at the same f-stop value
for many shallow DOF has become the single most important factor
Andrew says his clients, though, don't give a cr*p about the minor difference between APS-C and FF blurriness
for Andrew, Fuji delivers enough for his needs of subject isolation
for Andrew, DOF is not so important as other factors
Canon's face detection system is better. Fuji lacks in AF tracking, Canon is better
Fujifilm is fast in continuous shooting (20 fps), Canon only 5fps. Quick burst modes can ensure that you to snag the best shot
Fujifilm has more Pro photography features
X-T3 has dual SD Card slot
Canon has better battery life
Canon EOS RP is a bit lighter than X-T3. But once we factor in lenses, Canon is heavier
Andrew can carry more lenses when he travels, since they are smaller
more used lenses and third party lenses for Canon
less lens options for Fujifilm
shooting experience is very different, Fujifilm is more retro and tactile experience
Canon has bigger grip and great ergonomics. Controls on Fuji are more spread out
Fuji X-T3 has weather sealing, Canon EOS RP not
Video: no contest, Fujifilm X-T3 has much better specs. But Canon has selfie screen
if he should pick one camera, he chooses X-T3
Save up to $500 on X-T3 camera only or lens bundle: BHphoto, AmazonUS, Adorama, Focuscamera