Fujifilm X Summit Nov. 2 at 9AM New York Time: What We Know Will Come (and What I Hope)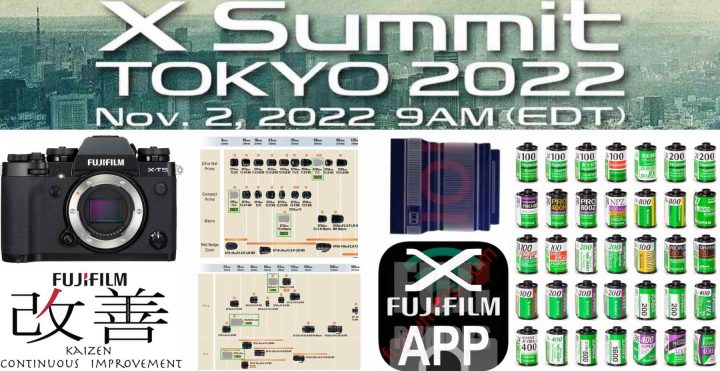 Are you guys ready?
FujiRumors certainly is, ready to deliver you an epic announcement day on November 2 at 9AM New York time.
So what will we surely get?
I mean… X-T5… it can hardly get more exciting that this!
And yet, as we have learned from the past Fujifilm X Summit, Fujifilm always has some surprises during X summits that not even FujiRumors saw coming.
So what could Fujifilm launch that FujiRumors never rumored? (and to be clear I have no rumors about)
Well, here is what I hope for (NOT RUMOR):
Fujifilm X App: there are rumors and even official Fujifilm slides leaked here on FR, but I have no information on it come along with X-T5. And yet, I certainly hope for it
new film simulation: usually with the introduction of new sensor and processors, Fujifilm also launched new film simulations. But this did not happen with the X-H2s and X-H2. So again, I have no rumors, but I hope Fujifilm will give us one on the X-T5
richer lens roadmaps: if you take a look at the latest X mount roadmap and GF mount roadmap, they are very poor on future lenses. I hope Fujifilm will release new roadmaps richer in lenses
Kaizen Firmware: given the huge effort put into completely re-writing their autofocus algorithm starting introducing a massively improved face/eye AF and subject/animal detection, it is no surprise that there hasn't been much time and money left to update older cameras with the latest features. But now that it is done, I hope Fujifilm will reassure us that more Kaizen firmware will come in future and that they will make a statement about it during the X summit
Mock-ups: what Fujifilm likes to do is to show mock-ups of upcoming lenses. And despite FujiRumors already having made a size comparison of the XF8mmF3.5 with other Fujinon lenses and sort of hands on mock-ups of the upcoming Tilt Shift G mount lenses are already to be seen at BHphoto here, I hope they will show us the latest mock-up version
– Fujinon GF 110mm f/5.6 Tilt-Shift Lens
– Fujinon GF 30mm f/5.6 Tilt-Shift Lens
So, that's my top 5 hopes. And what about you?