Fujifilm Savings: X-T30, GFX 50R, Capture One Pro 12 and More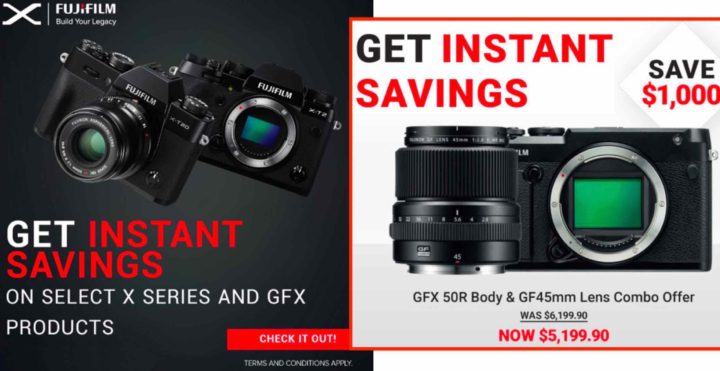 The Fujinon XF lens only deals are gone, but some deals remained, and some new ones came. Down below the overview of the official Fujifilm deals.
Other good news: The 50% discount on Capture One Pro 12 has been extended through April.
X Camera Deals
Fujifilm X-T30 (

save $300

*): BHphoto, Adorama, AmazonUS, FocusCamera
*

save $300 with purchase of XF23mmF2, XF35mmF2, XF50mmF2, XC15-45 or XF18-55

Fujifilm X-T2 (save up to $700*): BHphoto, Adorama, AmazonUS, FocusCamera


*save $700 on body only, save $600 on XF18-55 kit. Additional bundle savings vary from store to store

Fujifilm X-T20 (

save $100

*): BHphoto, Adorama, AmazonUS, FocusCamera
*save $100 on body only or kit with XF18-55, XC 16-60 or XC 15-45. Additional bundle savings vary from store to store

GFX Bundle Deals

GFX 50R + GF63mm (save $1,000): BHphoto, Adorama, AmazonUS, FocusCamera
GFX 50R + GF45mm (save $1,000): BHphoto, Adorama, AmazonUS, FocusCamera
GFX 50R + GF32-64mm (save $800): BHphoto, Adorama, AmazonUS, FocusCamera
All Fujifilm Camera Deals
All Fujinon Lens Deals
Third Party & Used Gear Deals
Third Party Lens Deals for Fuji X
Used Fujifilm Gear
Official Fujifilm Recommended Accessories
SD-Cards
Power Banks
Accessories and Apple Deals



Capture One Pro 12 Deal of the Year
50% savings on Capture One Pro 12 in the following versions:
Software