Fujifilm Releases Kaizen Firmware Updates for Fujifilm GFX100, GFX50R and GFX50S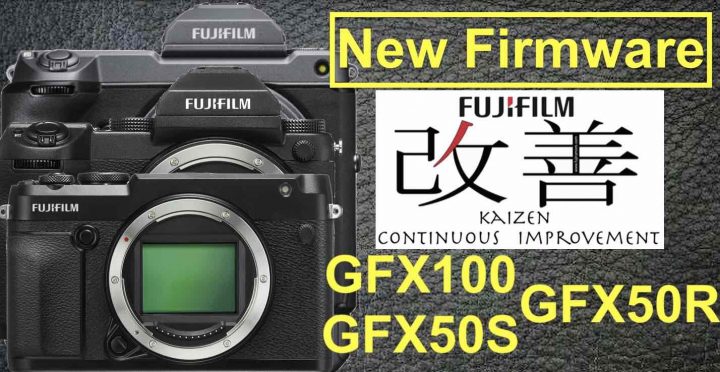 Fujifilm has released firmware updates for all their Fujifilm GFX cameras.
Fujifilm GFX100 ver 2.00 – download here
Fujifilm GFX50S ver 4.00 – download here
Fujifilm GFX50R ver 2.00 – download here
The firmware update Ver.2.00 from Ver.1.00 incorporates the following issues:
Expanding the use of outstanding image technology based on unique color reproduction

1)

Addition of the new Film Simulation modes below.
・"CLASSIC Neg" mode, simulating color negative film traditionally chosen for snapshots.
・"ETERNA" mode, which replicates the colors and tonality of Fujifilm's motion picture film.

2)

"Smooth Skin Effect," featured on the GFX 100, will become available, smoothing the appearance of human skin, ideal for portraiture.
2.

Improving autofocus performance

1)

Addition of the Low Light Priority AF-S mode, extending exposure time during autofocus to improve AF accuracy in low light.

2)

Improvement of the Face / Eye AF performance.
The face / eye detection accuracy and stability are improved when shooting multiple people, so as to make portrait photography easier than ever before.

3)

Auto mode will be added to focus bracketing.
Specify the starting and ending points and shooting interval, and the camera can automatically determine the number of frames and steps required.
3.

Expanding various other functions requested by customers

1)

The firmware will allow users to adjust exposure settings (shutter speed, aperture value, ISO sensitivity, exposure compensation) for still images from a computer when using software that supports some tether-shooting functions.

2)

More photo-editing applications will support the import of rating information, assigned in camera.

3)

The maximum number of photos that can be saved in each folder on an SD card will increase 10 fold from 999 to 9,999.

4)

When setting the color temperature in the White Balance setting, the value of the color temperature is also displayed.

4.

Fix of minor bugs