Fujifilm Releases Firmware Update for Fujifilm X-E3 (Auto-Geotagging) and Fujifilm X-Pro2 (Bug Fix)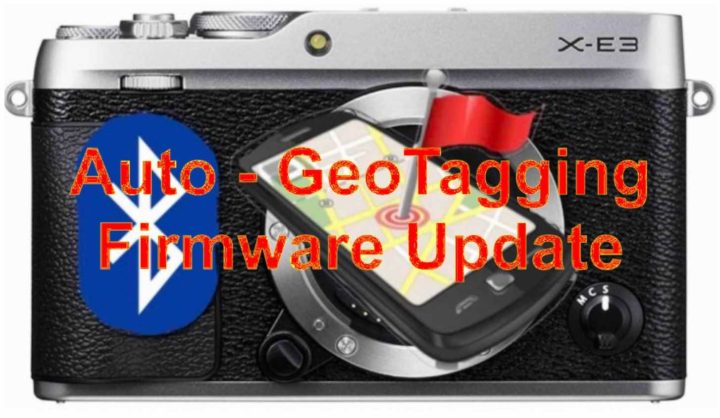 Fujifilm X-E3 Firmware
Back in October, I told you that Fujifilm will release a new firmware update for real-time geotagging within 2017. Well I was wrong… it came 15 days later ;) . And just as we rumored here, the X-E3 firmware is twice as big as the X-T20 firmware.
1. Auto Geotagging and Date/Time synchronization by Bluetooth pairing
When connecting to Bluetooth, Geotagging and Date/Time information of a camera can be synchronized with the information of a smartphone. "SMARTPHONE SYNC. SETTING" is added in Bluetooth SETTING. *To use this function, the application software "FUJIFILM Camera Remote" needs to be upgrade to the latest version Ver.3.1.0.
2. The phenomenon is fixed that live view blinks on LCD and EVF with face detection and dynamic range 400% setting.
In order to make the X-E3 auto geotagging work properly, you also have to update your remote camera app. The latest version 3.1.0 has been released yesterday here. I have made a super quick intial test and it works. Here is my (ACROS+R) cat geotagged. :)
Join our Fujifilm X-E User Group
X-Pro2 Bug Fix
Fujifilm has released the bug fix firmware for the issue we reported about here on FujiRumors.
You can download X-Pro2 firmware ver. 4.01 here.
1. A phenomenon of freeze is fixed. It will occur in case you try to shoot pictures when all the three settings below are set at the same time after the firmware has been upgraded to version 4.00.
1. IMAGE QUALITY : FINE+RAW or NORMAL + RAW
2. RAW RECORDING : LOSSLESS COMPRESSED
3. DRIVE : any of ADVANCED FILTER
Join our Fujifilm X-Pro User Group
Do You Like Breaking News and Rumors?
Then make sure to follow FujiRumors on Facebook, RSS-feed, and Twitter to get instant notification… and allow push notifications, by clicking on the "bell" on the bottom right of your browser.