Happy Birthday, FujiRumors Turns 6 Years Old Today… and Gives Away $200 BHphoto Gift Card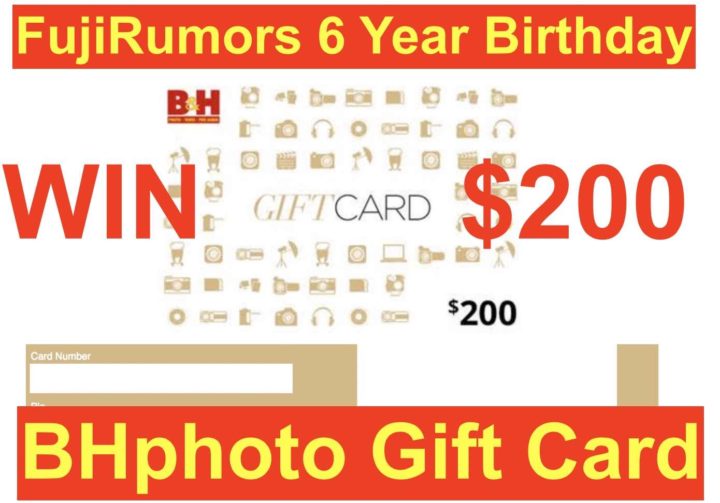 Birthday Giveaway
Wait, what?
I'm doing this since 6 years already?
Time really flies… I guess that's always like this, when you have fun doing what you do :) .
Time to celebrate the birthday, not only of FujiRumors, but of the entire Fujifilm community that comes together here since many years, by giving you all the opportunity to win a $200 BHphoto gift card.
But first a few thank messages you to those people, who make FujiRumors possible.
FR Community Thank You's
FujiRumors is run by me alone. So all 1,000 yearly articles you see are written by me, and also the 6,000+ yearly emails I write in reply to you guys, are all written by myself.
And yet, I could put all the effort of the world into this blog, but FR would simply not work without the support of you guys.
So thanks to….
Every single

s

ource, from the anonymous to the trusted ones, who decided to help me by sharing so many accurate rumors
Every single one of you, who decided to help me by sending me links to news, rumors, deals, reviews and more
Every single one of you, who supported FR by purchasing via FR affiliate links, clicking on banners or donations. Running a website is way more expensive than I thought before I started 6 years ago, and without your ongoing help I could close this blog tomorrow morning
Private Life Thank You's
There is only one single person, who can force me to close FujiRumors right now: my school principal.
In fact, every year, on the 1st of September, I have to ask her permission to be able to work on FujiRumors. She could simply say: "Your work on FujiRumors influences negatively your performance as a teacher, you don't have permission to work on the blog anymore".
If she would say this, I would be legally forced to stop to work on FujiRumors.
But luckily for some reason that I don't really understand, she considers me one of her very best teachers, and she's fine with my blogging, as long as I keep up teaching at the same level I always do since 13 years now.
Or maybe she is also an X-shooters and she does not want FR to close :) .
Thanks also to my better half, who always understands it, when I put the alarm clock every single hour in the night to check if a new firmware is out or when we cancel planed holidays because I have an important Fujifilm announcement.
And huge thanks to the fantastic rumor guys at SonyAlphaRumors and CanonWatch, who helped me when I started with the blogging.
At that time I had no idea of how to use wordpress and set up a website. All I knew is that Fujifilm was doing something amazing, and I wanted to share my "Fuji excitement" with a wider audience. They offered me help by joining their platform and gave me great tips.
And still today, we are a wonderful team… although with some crucial divergences when it comes to camera gear ;) .
Giveaway Rules
And now comes your chance to win, guys :)
Enter the contest by using the giveaway box below – direct link here
The prize is one (1) $200 BHphoto gift card
Since BHphoto ships internationally, the contest is open to all those countries, where BHphoto ships items and where giveaways of this kind are legally allowed. At the time of this post BHphoto does NOT ship to: Iran, Sudan, Cuba, Syria, North Korea and Uganda. Make sure to check out the updated list of countries where BHphoto ships here. Also please note that some items cannot be exported due to manufacturer or government restrictions. BHphoto will send you an on-screen notice if you attempt to put an item in your shopping cart or check out an order containing items which BHphoto cannot send to you. Full terms and conditions here.
The contest ends January 31
The winner will be contacted by fujirumor@gmail.com within mid-February and you will receive an email with the BHphoto gift card code