Fujifilm Recommended CFexpress Type B Cards: Why These Four Cards are BEST and Which Ones You Should NOT Use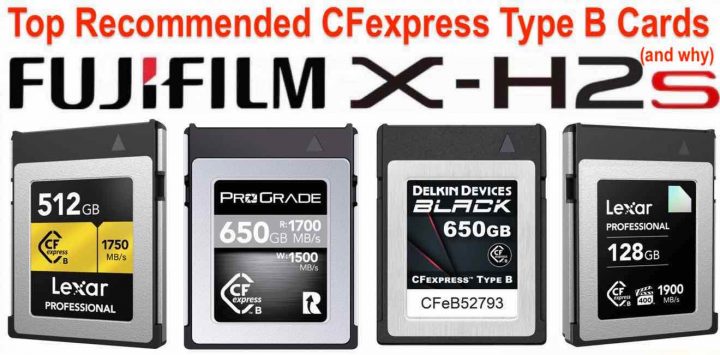 With the release of the Fujifilm X-H2S and hence Fujifilm's first digital camera to take CFexpress cards, Fujifilm has updated its list of officially recommended cards to store your files.
Now, all the cards listed below are recommended.
But attention, not all CFexpress Cards are made equal.
Some CFexpress Type B Cards can't record 6K/4K
Some can record 6K/4K but not in ProRes
Some can record all video formats, but when used for bursts don't last as long as others
Only 4 Card Models can do it all and can do it best
Also, CFexpress Cards not listed here are not properly tested by Fujifilm. This means they could perform very well, too. But they could also have a negative impact on the performance of the camera (or even don't work with certain features).
This is important to know, as I have already seen reviewers using the Pergear CFExpress Type B card in their X-H2S first looks. Whatever those reviewers say in terms of performance, please take it with a grain of salt, as they use cards that are not on Fuji's list.
If you treat yourself with a Fujifilm X-H2s, please stick to the recommended CFexpress Type B cards (and also UHS-II cards) listed below.
CFexpress Cards – Official Fujifilm Recommended
Out of all the cards mentioned above, the four cards without any compromise in performance are:
In order for you to get the complete overview, I have added the full detailed chart at the bottom of this article (also for UHS-II cards).
UHS-II Cards – Official Fujifilm Recommended
Latest and Greatest Gear
Full Chart