Fujifilm Manager: XF18mmF1.4 Resolution Beast (Ready for Fujifilm X-H2?), Why No Focus Clutch, Better than XF16/1.4 and More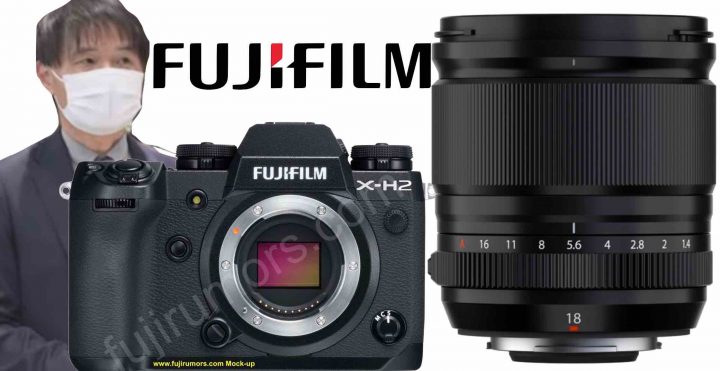 Fujifilm manager Ueno, who was in charge of the development of the brand new Fujinon XF18mm f/1.4 R LM WR, gave an interview in Japanese, where he talks about the development process of this lens, the difference from existing lenses, and how to use it properly.
Once again the challenge is represented by the automatic google translation tool on youtube. I went through this pain for you guys and you can find the summary down below.
I find it particularly interesting how the managers stressed the fact that one of the main goals of the XF18mmF1.4 focus was "resolution", hinting that there would be higher megapixel cameras in future.
Now, FujiRumors told you exclusively that the Fujifilm X-H2 will come in 2022. I know, it's only FujiRumors to tell you this, but it's 100% accurate, trust me. Fujifilm itself has hinted several times that more megapixel will come in future, and may it have the 43 megapixel Sony sensor or something different, the Fujinon XF18mmf f/1.4 seems to be ready for that kind of resolution.
Another interesting aspect is why Fujifilm did not put the focus clutch on the XF18mm f/1.4 and what makes it better than the Fujinon XF16mmF1.4.
This and more you can find in the summary down below.
Summary
Fujifilm's first focus was resolution
the original XF18mmF2 is already 10 years old and sensor technology has developed during this time, offering more megapixel
sensors will evolve also in future offering more megapixel
on the XF18mmF1.4, Fujifilm used an optical design that is very effective to increase resolution
also chromatic aberration, coma, etc are corrected as much as possible optically
autofocus has been improved too thanks to linear motor
15 elements design makes the lens a bit bigger
3 aspherical lenses are used to increase sharpness (often 2 are used, and not 3)
one ED element lens to reduce chromatic aberration. ED elements are more often used in longer lenses, but Fujifilm put it into the wide angle 18mm lens
20cm close focusing is very close and allows you to get nice background blur, when you focus on a close subject
the XF16mmF1.4 can focus even a bit closer
usually aspherical lenses can harm the quality of the bokeh, but Fujifilm carefully designed the surface of the aspherical lenses to keep the background blur nice
XF18mmF1.4 has an aperture lock
future lenses will have the A-lock too
focus clutch fits well on lenses that are often used with rangefinder styled cameras like the X-Pro series, to achieve manual focus at a more far distance. In the past, this was a very popular way to achieve focus
on the XF18mmF1.4 the focus ring turns 360

° all around, meaning that the focus ring position is not fixed to a definitive focus value

in future there will be higher megapixel cameras with higher pixel pitch, and more precise manual focus will be required, given the fact that various characteristics (such as temperature), have influence on manual focus
[FujiRumors NOTE: I guess the manager talks about thermal compensation. This is why also on my Samyang 12mmF2 there is a certain tolerance between the marked infinity focus and the real infinity focus. Depending on if I shoot in cold or hot temperature, the infinity focus changes just a little bit. For this reason Samyang designed it with some tolerance, and the markings on the lens not always 100% accurately represent the real focus]
the linear motor makes autofocus very fast, which should give you great AF results
optical performance between XF18mmF2 and XF18mmF1.4 is different. On XF18mmF2 the priority was keeping size small
XF16mmF1.4 still has first class optical performance, but XF18mmF1.4 is "one or two ranks higher" in terms of performance, as it hess less aberration wide open
especially when shooting astro photography, the XF18mmF1.4 performs better than the XF16mmF1.4, especially thanks to less fringing on the edge of the frame
2mm difference in APS-C gives a different look on wide angle lenses
→ Fujinon XF18mm f/1.4: BHphoto / AmazonUS / Adorama / Focuscamera
→ LH-XF18 Lens Hood: BHphoto / AmazonUS / Adorama / Focuscamera
The Fastest Growing Fujifilm Group
Follow FujiRumors on Patreon, Facebook, Instagram, RSS-feed, Youtube, Flipboard and Twitter
Join Our Owners Groups
Join Our Facebook Pages