Fujifilm Manager: "I think There will be a Fujifilm X-E4, but it Might Skip one Sensor/Processor Generation"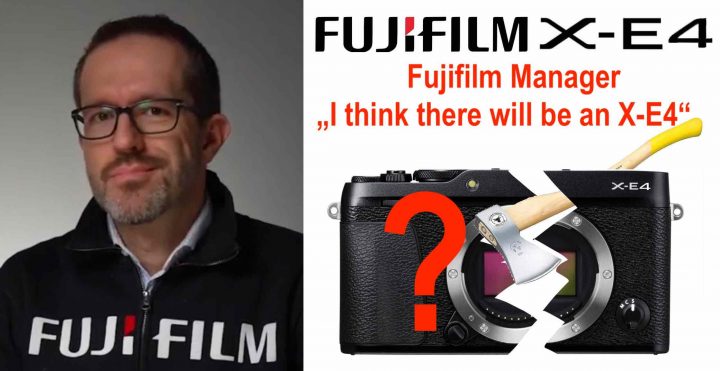 I know, here on FujiRumors we told you that Fujifilm decided to drop the Fujifilm X-E line, which means there won't be any Fujifilm X-E4.
It's one of those rumors, I hope to be wrong with all my heart (but I am very confident I am not).
Now, the X-E line was always walking on a thin line, and it risked to be dropped already in the past, as you know from my X-E3 love letter.
These days I am scanning the web for any statement regarding the X-E4, that can give me some hope.
I searched long, and I found a short statement made by Italian Fujifilm manager Massimo Vaghi in a 2+ hour long Fujifilm X-T4 and X100V live chat.
He says:
I think there will be a Fujifilm X-E4. It might skip one generation, but I think there will be one. Now I hope time won't prove me wrong"
So guys, that's so far the most optimistic statement I could find regarding Fujifilm X-E4. But honestly the manager himself did not seem totally confident about it.
Now, usually the X-E line indeed skips one sensor and processor generation. Hence, as you can see from our Fujifilm X cameras successor release timeline, I always told you the long for an X-E4 will be in any case very long.
But I can only confirm our rumors, and say that to my knowledge, Fujifilm won't make an X-E4.
I trust my sources immensely, but of course I can't tell you to trust me, when there is a Fujifilm manager statement out there, that says the opposite of what I say.
I really hope it won't turn out like that time, when Fujifilm managers said X mount is not compatible with IBIS, and at some point FujiRumors told you that that statement is not accurate, and Fujifilm will launch a camera with IBIS.
With all that said, if there is one time that I would just be happy to get a massive sh*tstorm for sharing a wrong rumor, then it's this time.