Fujifilm Guys and Manager Explain New Fujifilm GFX Firmware and Say that Blackmagic Design RAW Support is Technically Possible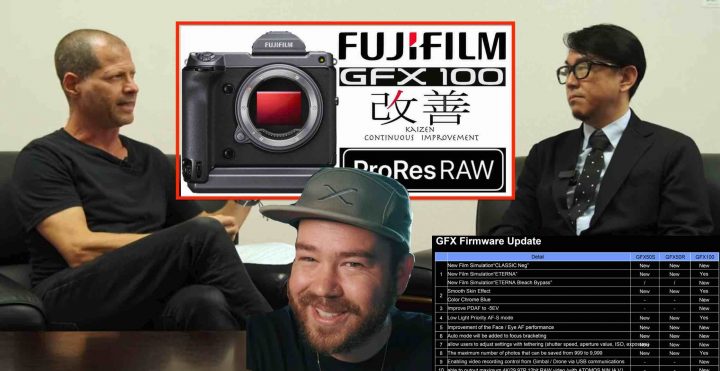 What a day!
Fujifilm has released:
In all this buzz, I'd like to highlight one interview made by Cinema5D to top Fujifilm manager Makoto San.
The talk mainly gravitates towards the new ProRes RAW support for Fujifilm GFX100, but they touch also on other topics, which is why I want to highlight this interview in a dedicated post.
Interview Summary
Fujifilm GFX100 is out since 1+ years and Fujifilm could not manufacture fast enough to match demand
Fujifilm planed ProRes RAW even before official GFX100 launch
Fujifilm has the technical possibility to support the RAW of Blackmagic Design, but the manager can't confirm anything now
6K or 8K on GFX100? Due to the 100 megapixel, the full pixel refresh rate is very slow. So Fujifilm had, for video, to combine the pixels inside the sensor and get 4K@60p. So, recorderd internally, 4K is the limit
also with other brands, when recording ProRes RAW externally, there are some limitations: you can't use the EVF, you can't trigger the recorder from the camera etc.
with the GFX100, you can record internally and output ProRes RAW externally at the same time. You can record for example F-Log or HLG internally and ProRes RAW externally at the same time
The only limitation with GFX100 when outputting ProResRAW, is that sensor output is always 4K and 16:9, hence you can not choose DCI format and FullHD recording
external ProRes RAW recording is 12 bit
new firmware brings Eterna Bleach Bypass to GFX100
gimbal support also coming for GFX100. Fujifilm is in talk with 4 companies
Atomos will soon release firmware update to support ProRes RAW for Fujifilm GFX100
Also Fuji Guy Francis goes over the new Fujifilm GFX firmware. You can see the video below, as well as a nice chart with a firmware summary shared by Fujifilm GFX member Ken in our fantastic GFX facebook group.
The GFX Community
Follow FujiRumors: Facebook, Flipboard, Instagram, RSS-feed, Youtube and Twitter