Fujifilm GFX100S (vs GFX100) First Looks: Low Light AF Almost as Fast as Canon/Sony (Really?), Joystick Issues, Quick Eye AF Demo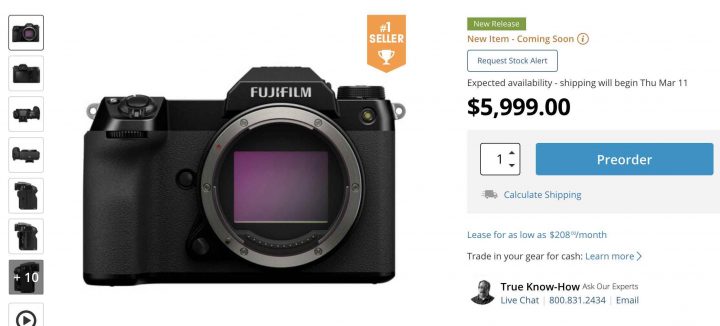 ThePhoBlographer got his hands on a Fujifilm GFX100S since a few days, and here is initial feedback shared in two videos:
Honestly, considering that this is just prototype firmware and that MF is not known to be master of speed, I have a hard time to believe that kind of autofocus performance.
What we know is that there is a new and improved algorithm in the Fujifilm GFX100S, that speeds up single, tracking and eye autofocus. So I definitely expect a sensible improvement over the original GFX100. But how much it was able to come close to high end full frame or APS-C cameras, that remains to see once more reviews come in with final production firmware.
Down below we also add a quick eye autofocus demo of the Fujifilm GFX100S. It's a Japanese first look on the GFX100S, and I will let you start the video at 17:46 to get direct access to the quick eye AF demo.
Always covering the brand new GFX100S, ZP Productions shared an initial look at the GFX100S and compares it to the original GFX100. Here is what he says:
As for the joystick, you can set it that it works always, or that it works only after you clicked it (or even turn it off completely). Maybe the reviewer had it set to "press first than move", which could explain why he had to push hard, probably until he accidentally pressed so hard that he pressed in and activated it. Or it's just because it's a pre-production sample. Frankly, I would not worry about it at all.
Check out all videos down below.
Follow FujiRumors on Patreon, Facebook, Instagram, RSS-feed, Youtube, Flipboard and Twitter
Videos