Focus On Glass: Fujinon XF 50-140mmF2.8 Even Better with Future X Bodies and Why no OIS on XF 16-55mmF2.8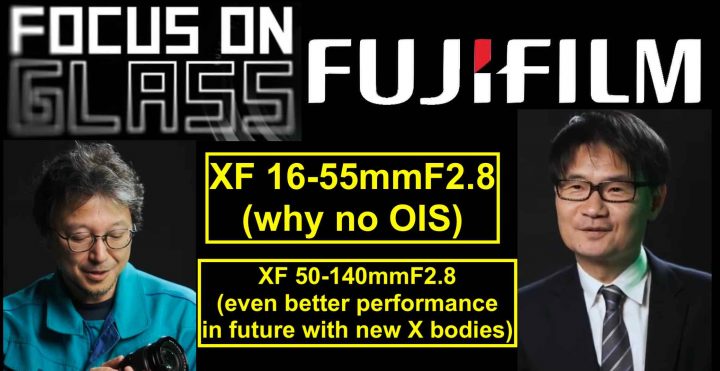 We already reported in this post, about the first episodes of the Fujifilm series "Focus on Glass", which included the XF8-16mmF2.8 and the GF30mmF3.5.
Now new episodes have been uploaded at Fujifilm Spain, this time about two lenses, that we can define the "workhorses" in the X mount lens lineup, the Fujinon XF16-55mmF2.8 and the Fujinon XF50-140mmF2.8.
It includes statements made by Fujifilm managers and engineers about those lenses, which I will report in written form here, to make you safe some time ;)
Fujinon XF50-140mmF2.8
no excuse is allowed for this lens:
– autofocus has to be fast
– image quality has to be impressive
– weight has to be light
– size has to be compact
– it has to tick all boxes
it has outstanding resolution
a flawless lens
clear color reproduction
minimal chromatic aberration
Fujifilm is proud of the result
23 glass elements inside with many ED lenses
the more the Fujifilm X bodies evolve, the more the potential of this lens is executed
an engineer says he can see its performance extended even further in future
Regarding the better performance in future, they probably refer to autofocus speed, but possibly also to sharpness. We know from this Fujifilm manager statement that Fujifilm X glass can resolve at least 32 megapixel, hence, Fujifilm might hint that the XF50-140mmF2.8 is one of those lenses that is currently underperforming on the 26 megapixel X-Trans sensor.
Fujinon XF16-55mmF2.8
in order to maximize optical performance, Fujifilm decided to remove OIS, it was not an easy decision
it's a must have lens
you can attempt any photo shoot with this lens
a reliable partner
no excuses are allowed, when making a red badged lens
Fujifilm would give it 5 stars
I have been told in the past by my sources, that the optical performance at the wide end did not satisfy Fujifilm completely, hence they decided to remove OIS. At that point in time a strongly debated discussion, but now that Fujifilm offers cameras with IBIS, we can say that in the long term this was the right decision.
You can see both videos down below.
Follow FujiRumors on Patreon, Facebook, Instagram, RSS-feed, Youtube, Flipboard and Twitter
FOCUS ON GLASS – VIDEOS