DEALS: Fringer Contax 645 – GFX Smart Adapter $200 off + Picktorial Buy 1 and Get 1 more License Free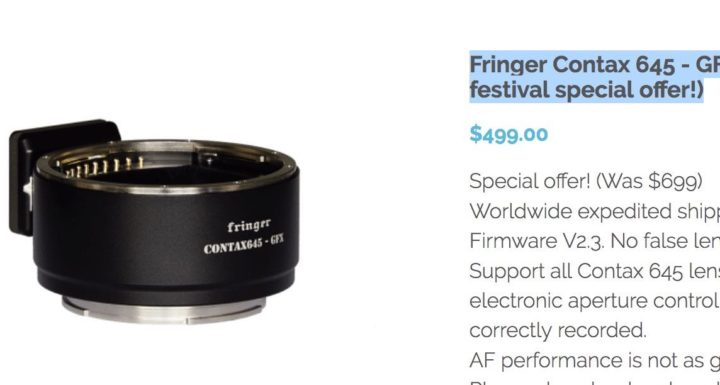 Fringer GFX Smart Adapter
The Fujifilm GFX 50S is an ideal camera for adapted third party glass. In fact, over at our GFX facebook group, there is a terrific amount of images shared with all kind of non Fujinon lenses.
Most of the GFX photographers use "dumb" adapters, but especially for the Fujifilm GFX, there are quite some great smart adapters available (list below). This is made possible also because the GFX mount was obviously designed to working with electronic adapters, as we reported here.
One of those smart adapters is the Friger Contax 645-GFX.
We shared last official AF demo in this article. If you want to see samples, of course there are many photographers at our GFX facebook group, who use the Fringer adapter on Contax glass.
Now the Friger Contax 645-GFX is available with a $200 discount at fringerdev website here.
List of smart adapters available or soon to come:
Picktorial
Picktorial has a deal running. Get one copy for $49 instead of $69, and you will get a second license for free to share. Only for Valentine's Day.