BCN Ranking: Fujifilm Beats Sony and Becomes 2nd Best Selling Brand in Japan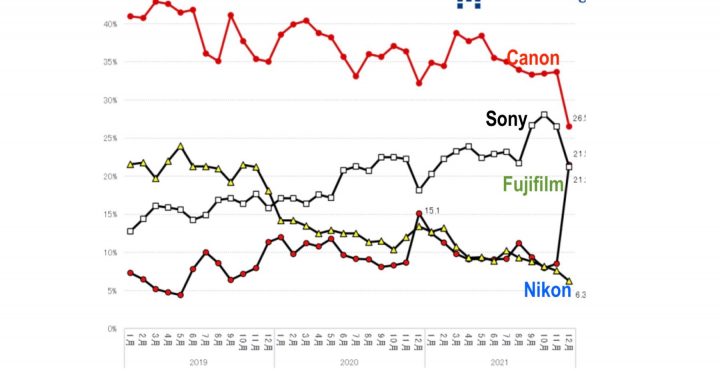 Today you should be happy as a Fujifilm X and GFX shooter, and I tell you why.
The latest BCN data* shows that Fujifilm was able to pass Sony and hence placed itself on the second spot behind Canon in the Japanese digital camera market. It's the first time since 19 years that Fujifilm was able to grab the second spot.
So what pushed Fujifilm suddenly so high?
Well, it's not the X or GFX series, but mainly the Instax Mini EVO that boosted the market share for Fujifilm. Sure, those are technically speaking also digital cameras, but they belong to the Instax family.
Another homerun for Fujifilm, but not in the ranking as it is not a camera, is the Instax Wide Printer, which I also got for myself and truly enjoy (I've waited YEARS for this!)
So what, who cares? It's just Instax?
Well, not really.
As you know FujiRumors is 10 years old already, so I have a long memory on what happened and what was said in the past.
And I remember how Fuji Guys said in the early days of the X series adventure, that the massive cash Fujifilm makes with Instax products is also partially used to fuel the development of their digital X series cameras.
So the tremendous success for Instax is a good news also for us Fujifilm X and GFX shooters, especially considering that also Instax struggled to sell back in 2019 and in 2020.
This sharp recovery of Instax, mainly thanks to the Instax Mini EVO (which is indeed Fuji's best looking and most vintage operating Instax camera), but also thanks to the Instax Mini LiPlay and Instax Wide Printer and more, brings fresh money into Fujifilm's camera segment, which ultimately can be used also for the X and GFX series development.
Money, that is much needed, as this year will be a fantastic Fujifilm year, with the Fujifilm X-H2 introducing the 5th generation X series cameras in May 2022, which hopefully will come not only with great new hardware, but also with a huge computational photography boost.
*BCN collects data of about 40% of the Japanese electronics and online stores.
via bcn via digicame-info
Sieh dir diesen Beitrag auf Instagram an